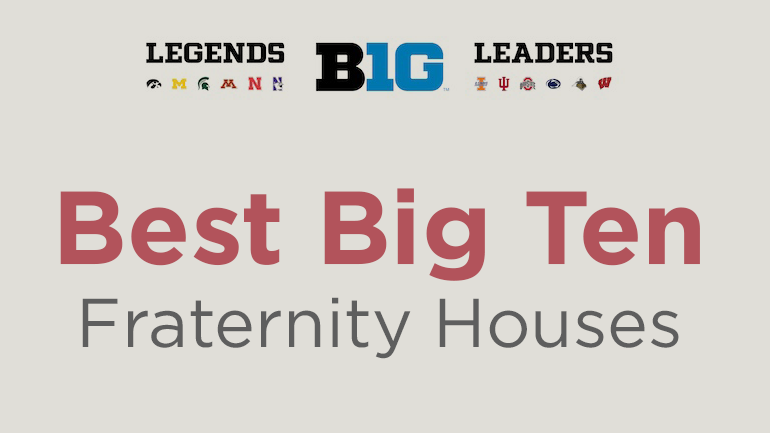 Ah, the B1G.
Who will win the Michigan vs. Ohio State football rivalry this season, as you die-hard fans sit in the freezing November weather to shout and cheer and boo bad calls by the refs? And will it be Urban Myer or Jim Harbaugh who swallows his whistle first? Whose nose is redder out there on the sidelines? Will Tom Izzo's Michigan State Spartans make the Final Four this March? (Turns out, sadly, no, though Michigan and Purdue "March" on.) Will Notre Dame hockey ever not be awesome? And why are there so many more than 10 teams in the B1G? Well, the more the merrier, you might say. More competition means more good times to be had by all.
Where else might someone have such good times--no, great times--than in a B1G fraternity house?
"We don't know," you explain. "We're too busy having a great time in our B1G fraternity house."
That's fair. It's also the very topic we want to discuss with you today. So take a seat--Oh, you're already sitting? Well, never mind. Let's just jump right in. Pennington & Company wants to give a shout out to that lovable Midwest (mostly) conference and the fraternity men who represent it. Thus, without further ado, here are the Best Big 10 Fraternity Houses.
Sigma Chi - Purdue University
Purdue University has been an institution of higher learning in West Lafayette, Indiana since its founding in 1874. Sigma Chi proudly represents that heritage with their presence on campus. Their Delta Delta chapter at Purdue has over 100 active brothers with about half that many living in their fraternity house. Naturally, the house is as big as it is awesome.
Hey, they call it the B1G for a reason, right?
In 1912, Sigma Chi built a Delta Delta chapter house that was worthy to behold: It had the warm, quaint feel of a European cottage with its pointed roofs and dark woodwork, but also intimidated with its size--like some Dickensian lord's manor. There was plenty of room for all the history and prestige Sigma Chi has carried with it throughout the years: plaques, letters, creeds, framed photographs and chapter composites.
However, in more recent years the house began to deteriorate and badly needed renovations. With the help of carefully planned fundraising efforts they were able to raise more than enough money for the cause. Now the house looks sharper than ever before, with a central brickwork chimney, enhanced and expanded personal, academic and dining areas, and all the trimmings. One of the most impressive features to us may be the "Great Hall," a central living space, akin to a lodge from some past era with deep woodwork and tall windows, where you can kick back in front of the fireplace and enjoy the company of your fellow brothers.
Lambda Chi Alpha - University of Illinois
They call themselves the Fighting Illini. The name hearkens back to the winter of 1874 when the school's newspaper officially became known as The Illini. And, in the world of the B1G, what a name it is to live up to. It's enough to make you shout, "Oskee wow-wow, Illinois!"
Luckily for the Chi Zeta brothers of Lambda Chi Alpha, their chapter knows all about living up to high expectations. So does their chapter house.
Set on the beautiful Urbana-Champagne University of Illinois campus, up a grassy slope, the Lambda Chi Alpha fraternity house's towering brick façade looms several stories high with stonework arching the entrance to the perfect place for the Chi Zeta brothers to work hard and play hard.
This nearly century-old fraternity house also got a recent renovation with the help of fundraising efforts, and was even rebuilt with the same brick as the old house. And it's as fantastic as ever. Brothers and guests can feel at one with nature--trees and shrubs and climbing vines surround the house and offer that perfect balance between man and the world. On the deck area you can get your Zen on by meditating, or fire up the barbeque with the brothers before the big game. There are plenty of other spaces in the 27,000-square-foot house for up to 72 residents, as well as rooms for private meetings, studying, hanging out in front of the flat screen TV or playing a good old fashioned game of foosball. When it comes to B1G fraternity houses, Lambda Chi Alpha's Chi Zeta house is one of the best.
Sigma Phi Epsilon - Penn State University
For a university that has a history of "whiting out" stadiums during sporting events--meaning fans wear, well, lots of white--the Penn Eta chapter of Sigma Phi Epsilon's fraternity house's colors are bold and yet calming at the same time; it strays from the concept of other campus fraternity houses' white façades with its sandy-pink walls and red roof tiles. The Spanish-style house is a century old, but has undergone various renovations during its time on the Penn State campus.
This house is simple and straightforward, yet elegant, and its brightly painted red entryway demands both attention and respect. There is plenty of space within its three-story interior and basement, with living quarters, a dining area designed to seat 100 brothers and guests, a trophy room, a laundry facility, academic conference rooms, an undergraduate library, an outside deck area and more.
These are a few of what Pennington & Company consider the Best Big 10 Fraternity Houses, but certainly there are many more awesome houses than could fit on this list. Whatever university campus it is you call home in the B1G, there are plenty of great fraternity houses to go around. Whether you're a fraternity brother at Indiana, Illinois, Michigan, Michigan State, The Ohio State, Iowa, Minnesota, Maryland, Nebraska, Northwestern, Penn State, Purdue, Rutgers, Wisconsin or--in the case of good ol' hockey--Notre Dame, there are more than enough fantastic houses take pride in.
If you're a brother in a B1G fraternity house that you think is one of the best, tell us about it in the comments below!