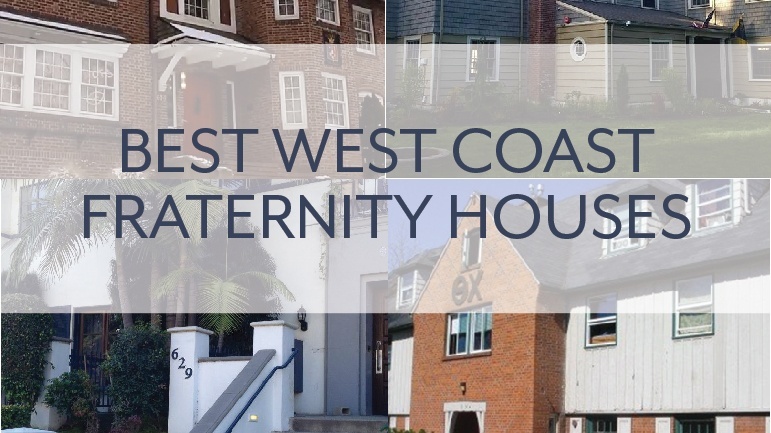 "Ain't no party like a west coast party, 'cause a west coast party don't stop."
So says Snoop Dogg, Long Beach native and world-renowned rapper.
Snoop speaks the truth in a lot of ways; the west coast is known for its chill, sweeping golden coasts by day and its party atmosphere by night. It's full of glitz and glamour, but also a lot of hard work and heart. It's a place where both the self and the greater good are championed. These qualities are also expressed through fraternity chapters on west coast campuses and in the sheer awesomeness of their chapter houses.
While the east coast has its own fraternity houses that are absolutely fantastic, the west coast is not known for getting rolled over by the east coast that easily (just ask the Golden State Warriors). Whether you're kicking it in California or the Pacific Northwest region of Washington and Oregon, we here at Pennington & Company know your fraternity houses are some of the best. They're the kind of places Snoop Dogg might be caught hanging out, or maybe even throwing an Old School style concert on the lawn while Frank the Tank goes streaking through the quad to the gymnasium.
Snoop Dog or no Snoop Dog, though, we'd like to showcase a few of these magnificent places many fine brothers call home. Without further ado, here's our list of what we consider some of the Best West Coast Fraternity Houses out there.
Sigma Phi Epsilon - Washington State University
Sigma Phi Epsilon's Washington Alpha chapter boasts one of the best west coast fraternity houses out there. SigEp has called Washington State University home since the spring of 1912, but the fraternity in more recent years has become a bastion of their modernized values and aren't afraid to try new things for the betterment of their brothers. They've abandoned the traditional pledge process and adopted what they call the Better Man Program, which essentially leads brothers through a process of personal and academic growth while also instilling holistic chapter values.
But while SigEp brothers are paving the way to the future, their west coast fraternity house, which underwent $600,000 in renovations in 2005, provides them one of the best foundations they could hope for. Steps lead you up a gentle hill to a lush green lawn, inviting you in to the classic red entryway of this multi-storied brick mansion, where upwards of 60 brothers call home. From a turret hangs the fraternity's crest, the only symbol decorating this house, fierce and intimidating, yet elegantly understated.
Theta Xi - University of California, Los Angeles
Theta Xi's Alpha Zeta chapter owns what one might call the quintessential California-style house on the campus of UCLA. In fact, Theta Xi was the first of all fraternities on campus to build a house in 1928, making it not only one of the best but the oldest as well. Theta Xi itself has been around since the mid 19th century, and has gained over 60,000 members since its founding.
This fraternity house is a simple white with Theta Xi's letters and a minimalistic trim in blue. Its Spanish tile roof and the surrounding palms towering overhead give it that perfect west coast vibe. Inside are 30 bedrooms, sleeping porches or lofts, which each can house one to three brothers. Other amenities include a complete library, a fireplace and cozy living area, a poolside bar and barbeque, a 70-person dining area, a raised patio and a fire pit.
In recent years the house has raised millions of dollars toward renovations, for improvements such as updating their basement bar, adding a hillside deck overlooking the pool and converting an outdoor, canopied gym. So if you find yourself on the west coast, stop by the Alpha Zeta chapter house on UCLA campus--it's simply one of the best.
Acacia - Oregon State University
Acacia has been around as a fraternal organization in North America since 1904 at the University of Michigan, and has had over 48,000 brothers join their ranks. In other words, they've been around the block.
Acacia's fraternity house at the Oregon State University matches the picturesque campus--a lush expanse of multi-colored trees, green lawns and brick buildings. On the horizon sit the forested hills that make Oregon such a beautiful place to live. Acacia's fraternity house embodies these elements of the state's unfolding beauty with its multi-tiered, multi-dimensional, multi-story construction, its pointed roofs and a towering chimney.
Acacia has raised nearly a million dollars toward renovations for the house, and its visage is that of a place borne from a fairy tale in the woods.
Theta Chi - Oregon
While California takes up most of the west coast of the United States, and boasts its own awesome fraternity houses, we think that the Pacific Northwest is just as much part of the west coast as Cali. It's also an area that's particularly beautiful year-round and has some of the best fraternity houses out there.
Consider, for example, Theta Chi's Alpha Sigma chapter house at the University of Oregon. The constant rain in Eugene, Oregon, makes for some lush, deep greens around campus, matched perfectly by the brickwork of the Theta Chi fraternity house, making it one of the best out there.
Which makes sense, as Theta Chi has been around for well over a century, with over 185,000 members throughout its history. They're accustomed to making their place in the communities they call home.
The house sits on the gently sloping East 19th Street, its brick accentuated by beautiful white wainscoting and shutters lining the floor-to-ceiling windows on the ground level. Theta Chi raised over $700,000 toward renovations to the house, which is a landmark of the majesty of both the University of Oregon and the west coast.
These are few of what we consider to be the best west coast fraternity houses out there, from San Diego Bay all the way up to the Olympic Mountains. Certainly we didn't mention all of the wonder and glory west coast fraternity houses have to offer, though. Which houses would you add to the list? Tell us why in the comments below!