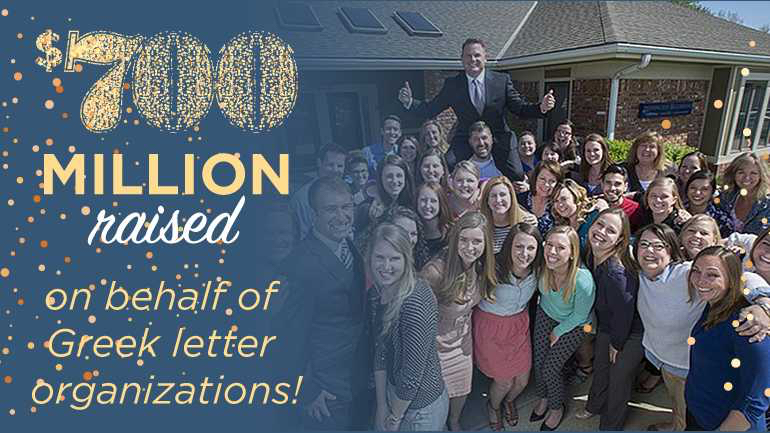 Company credits most recent milestone in 25 years of industry-leading success to personalized strategies and a partnership approach to client relationships.
LAWRENCE, Kan., May 23, 2019 — Pennington & Company, the market leader in fundraising and alumni engagement for Greek-letter organizations, announced today that it has surpassed $700,000,000 in total funds raised for clients since its founding over 25 years ago. This achievement reinforces and strengthens Pennington & Company's position as the standard of excellence in the fundraising industry.
"Pennington & Company embraces this milestone with our hats off to our clients for the faith they've placed in us to shape each of their individual fundraising strategies," said Patrick Alderdice, Pennington & Company CEO. "This is a results-driven business, but as delighted as we are to reach the $700,000,000 mark, it's about so much more than numbers."
Alderdice credits Pennington & Company's deep-seated focus on personal relationships as the driving force behind the company's holistic approach to keeping Greek organizations financially healthy. He says engagement of alumni consistently and mindfully fosters a giving and collaborative mindset.
"People are the heart of Greek life, from the students, to the volunteers, to the employees of alumni organizations and house corporations," said Alderdice. "Putting people first at all times – not just when it's crunch-time for donations – helps the fraternal bond thrive and grow within and among organizations."
While the company will celebrate this achievement, Alderdice says it will only invigorate and motivate the Pennington team. "We've got work to do for our clients, and this achievement will only fuel the fire around here," he notes, adding: "I know this team, and they're ready to sprint toward the next milestone."
About Pennington & Company
Pennington & Company is unique in the world of fundraising counsel because we have a passion for the life-changing experience that membership in a fraternal organization provides. Recognized for its Dream Manager Program and as a Best Small Place to Work, our dedicated staff combines fundraising, communications, and marketing expertise with a personal commitment to the extraordinary value our clients bring to their members. Visit penningtonco.com.
CONTACT:
Patrick Alderdice
CEO, Pennington & Company
(785) 843-1661