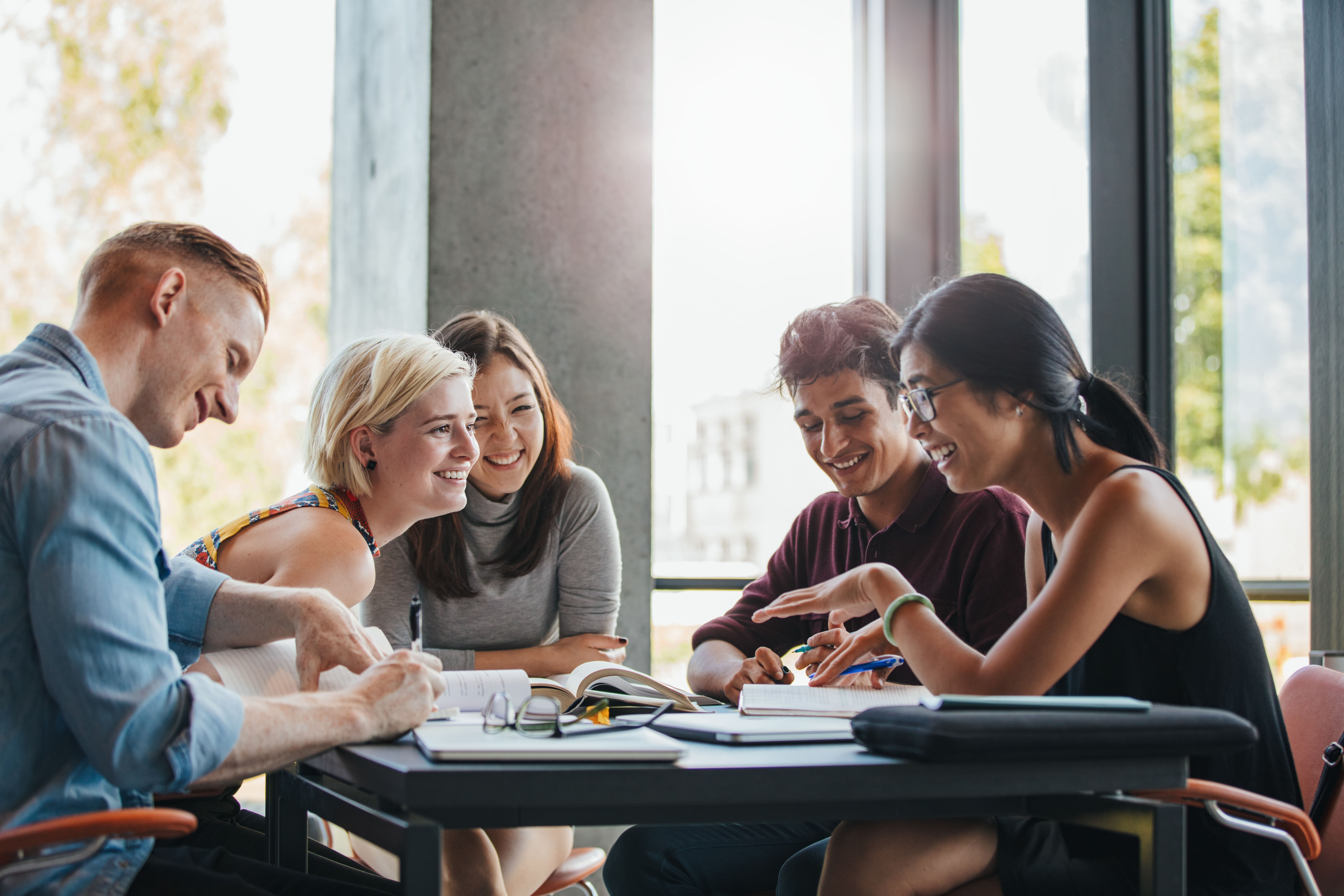 As a fraternity or sorority leader, you wear many hats to keep your operations running smoothly, including managing your chapter's fundraising campaigns. It can feel overwhelming to dive into a new campaign, and you likely have questions, especially if you're just starting out. We get it, and fortunately, you don't have to stress—we have you covered!
Let's answer your initial questions about fundraising before diving into some unique fraternity and sorority fundraising ideas that will help you rake in revenue in no time. So let's get started and see how you can take your fraternity and sorority fundraising to the next level!
Fraternity and Sorority Fundraising FAQs
What do fraternities and sororities fundraise for?
Every chapter is different and has unique needs. That being said, most fraternities and sororities have the following expenses that they fundraise for:
Philanthropic events
Brotherhood/Sisterhood retreats
Determining what your chapter should fundraise is a multi-step process. First, identify your financial situation and expenses that you'll need help with. Then, ask your members for their input and consider your previous fundraising events' successes. All of these factors indicate where your focus should be and how you can achieve your goals.
How do we throw a successful fundraiser?
Fundraising is a nuanced process, and different strategies work for different organizations. However, there are a few essential strategies that are relevant to any fundraiser's success. Consider these "do's" and "don'ts" while you execute your campaign: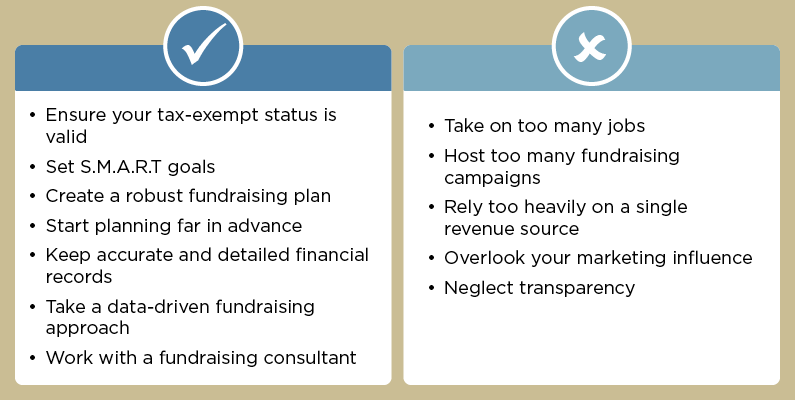 DO:
Ensure

your tax-exempt status is valid: Did you know that your chapter can save thousands each year by

renewing your

tax-exempt status? Fraternities and sororities fall under the

501(c)(7) IRS category, meaning that they don't have to pay federal income tax on income received that's related to their purposes, such as

membership dues

and fundraising revenue. Work with your local and national leadership teams to get registered and adhere to the reporting requirements to save big.
Set S.M.A.R.T goals:

Following this framework helps you set expectations for your campaign and provides the bones for

your fundraising strategy.
Create a robust fundraising plan:

Once you've set your goals, detail how you're going to achieve them in a thorough fundraising plan. In this plan, you should include your budget, timeline, fundraising methods, target audience analysis,

marketing plan, and key performance indicators (KPIs) so you can gauge success.
Start planning far in advance:

Fundraising campaigns have lots of moving parts, especially for an organization as big as a fraternity or sorority. Ideally, you should start your goalsetting and planning processes at the end of the previous school year, once your new executive board has been trained.
Keep accurate and detailed financial records:

Using powerful

digital tools such as

OmegaFi's fraternity and sorority management software

is the best way to keep your financials organized. You can store donation information (as well as other fees) and easily pull it for approaching reporting deadlines.
Take a data-driven fundraising approach:

You can't see the future, but you can plan for it with your previous

fundraising and donor data. As your executive board meets throughout the year, compare your current analytics with those from last year. This can help guide your approach (and pivots if necessary).
Work with a fundraising consultant:

Want to jumpstart your fundraising journey with professional expertise on your side? Consider working with a fundraising consultant that specializes in fraternity and sorority fundraising, like

Pennington & Company. They'll help you organize a holistic strategy to fund your short- and long-term fundraising goals.
DON'T:
Take on too many jobs:

It's better to be fully focused on a few tasks than to be scatterbrained with many tasks. Use your resources, such as your software, executive board members, advisors, and chapter members to help manage your fundraisers.
Host too many fundraising campaigns:

Similar to the previous point, don't fatigue yourself and your target audience by bombarding them with campaigns and appeals. In this case, less is more!
Rely too heavily on a single revenue source:

It's important to have a diverse stream of fundraising revenue so that if something falls through, you can still count on other sources. For example, don't focus only on acquiring sponsorships or hosting one huge fundraising event.
Overlook your marketing influence:

Your chapter is uniquely situated to raise awareness of your cause due to your vast network of members and alumni, as well as their friends and families. Strategically plan your outreach efforts to leverage this web of connections.
Neglect transparency:

Building trust with your donors is critical to secure their future support. Be transparent about your fundraising campaign's progress, including your total revenue raised and what the funds are going towards. Another way to boost accountability is to publish your IRS forms. These aren't publicly available for 501(c)(7) organizations, but by posting them on your website, you can prove that your chapter is trustworthy.
How can we get members excited about fundraising?
In fundraising, there's immense power in numbers. You can imagine your fundraising potential with a large and passionate group of chapter members on your team! That being said, here's how you can encourage participation from your members in your fundraising efforts:
Offer involvement tiers:

Your members care about your chapter's success, but the truth is that they're likely extremely busy with schoolwork and other extracurricular activities. Appeal to your busier members by offering them more relaxed roles, such as being a

peer-to-peer fundraiser

or posting about your fundraisers on their social media.
Train your members:

Some of your members might be interested in fundraising for your chapter but don't have the confidence or experience. Empower them to become fundraising superstars by providing training and support. Host a few brief classes at the beginning of the year to teach them techniques. Then, as they get more comfortable with fundraising on their own, scale down to a drop-in hour each week for members to ask questions.
Create a culture of recognition and appreciation:

Your fundraisers will perform better when they're encouraged and recognized by your chapter's leadership and each other. Consider offering recognition programs, such as random social media shoutouts or a "fundraiser of the month" initiative, to thank your fundraisers and motivate them to perform even better.
How can we add value to our fundraiser?
There are always ways you can enhance your campaign to generate more donations! For instance, take these examples:
Create and sell campaign-specific products:

Hosting a charity 5K? Sell a custom dri-FIT athletic shirt for the race. What about a cooking class? Offer special plates with your chapter's branding. Selling distinctive branded items helps your donors remember your chapter and could spur future gifts.
Incorporate a virtual element:

Your chapter likely already has experience with hybrid or

virtual learning and meeting environments. Leverage virtual conferencing software like Zoom to invite participants from near and far to participate in your fundraiser. Just ensure that you password-protect your meeting and only send the password to pre-registered participants to prevent bad actors from joining.
Target supporter groups:

During your target audience stage, you'll likely find that two of your most dedicated supporter groups are your chapter's alumni and parents. Both have a deep personal connection to your chapter and want to pay their support forward. Leverage this by creating specific fundraising campaigns for them. For instance, you could create exclusive "chapter parent/alumni" shirts for them to purchase through your

product fundraiser.
Try a peer-to-peer format:

Taking advantage of personal connections is the best way to spread awareness of your fundraiser and acquire new supporters. A peer-to-peer (P2P) format empowers your members to raise money through their own mini-campaigns. Plus, software solutions like OmegaFi make it

simple and safe

with a P2P campaign platform that syncs with your CRM and member management system.
Promote matching gifts:

Did you know that

4-7 billion dollars

in matching gift revenue go unclaimed every year? Fortunately, it's easy for you to get a piece of that pie by educating your donors about matching gifts and simplifying the submission process. Include a blurb on your donor communications explaining what matching gifts are and motivating them to submit requests to their employer. Make it effortless for your donors to give by integrating a

matching gift processor with auto submission

into your donation page.
These are just a few of the possibilities that you can repurpose for your chapter's needs. Ultimately, the best revenue-generating ideas are aligned with your fundraising campaign's focus, so be creative!
How can we use technology to streamline our fundraising efforts?
For every problem, there's a software solution. If you're new to fundraising or simply want to overhaul your tech, consider adding these types of solutions to your repertoire:
Alumni engagement software
Fundraising feasibility software
Member management software
Internal communications software
Budgeting and financial reporting software
Online payment processing software
Lots of options, huh? Don't worry about juggling many different platforms. Look for a comprehensive fraternity and sorority management platform, such as OmegaFi, that includes all of these essential capabilities and more. Ultimately, search for a user-friendly product that has features that align with your goals.
How do we decide on the perfect fundraising idea for our chapter?
With so many options out there, it can be challenging to narrow down the best fundraising ideas for your chapter to take on. You can do the following to help you decide:
Ask your chapter members.

Your members care about the success of your chapter and they're in tune with what college students love to do. At the beginning of the school year, ask your members via survey which fundraising ideas they recommend for your chapter and why. Then, evaluate them to see if there are any promising options.
Research recent trends:

Remember the smashing success of the ALS ice bucket challenge? Your chapter can hop on popular viral challenges and trends as peer-to-peer fundraising ideas. Just ensure you and your fellow members act fast once trends crop up because viral challenges can fade quickly.
Theme them to align with your nonprofit partner.

If you're having trouble choosing a fundraising idea, consider picking one that aligns with your philanthropic partner's cause. For example, if your philanthropic partner is a food bank, a Cookout for the Cause lines up with your partner's focus on food security. By doing this, you'll show your partner that you truly care about their initiatives by spreading awareness of their work while raising money for their cause.
Calculate the potential return on investment.

Will you need to significantly invest in the idea to get it off the ground? If the answer is yes, this fundraising idea probably isn't a good fit for your chapter. While you'll inevitably have to spend money to make money, it's best to take on fundraising ideas that can yield a high return on your investment.
Gauge how donors can get involved.

The most successful fundraising ideas are those that support donor interaction with your chapter because it encourages them to donate again in the future. Consider how your donors will be engaging with your chapter with every fundraising idea. For instance, donors will interact with your chapter differently during a silent auction than they would with a dance-a-thon. There isn't a right or wrong way to engage donors—the most important thing is to pick ideas that encourage future donor engagement.
As previously mentioned, you can also work with a fundraising consultant to plan and execute relevant fundraising ideas for your chapter. Just ensure that the consultant you work with knows how to raise money specifically for sororities and fraternities and understands the dynamic between you and your philanthropic partner.
How do we retain alumni donors over time?
One of the most important long-term fundraising strategies to keep in mind is donor retention. According to Bloomerang, the cost of marketing and stewarding entirely new donors to your organization can be 50-100% more than the value they donate. So, while welcoming new alumni to your donor circle is exciting, you should spend most of your time focusing on donor retention. Here's how you can boost donor retention throughout your alumni fundraising efforts:
Send personalized fundraising letters. Nobody likes receiving generic fundraising appeals that could be addressed to anyone. Sending

genuine fundraising letters

throughout the donor journey, such as before and after they make a gift, shows your alumni that you value them as individuals and are willing to go the extra mile to secure their support.
Update donors about their gift's impact. While your donors might care about your cause, they lead busy lives and might not keep tabs on your campaign's progress. Send customized updates to your donors about the campaign they donated to and about the specific impacts of their donation. For instance, you might send monthly updates after the campaign's conclusion to an alumnus who gave $500, explaining that their gift provided a family with full meals for a month. Reminding your alumni about their effect on your beneficiaries and chapter can revitalize their interest in your cause and inspire another donation.
Recognize alumni milestones. Most communications with your alumni commence when they give, but you should stay in touch with them even if they haven't donated recently. You can message alumni on special occasions, such as wedding anniversaries, holidays, birthdays, and graduation anniversaries. This shows your alumni that you value them as more than just a source of funds and can secure future support.
Leverage user-friendly giving channels. It's up to your chapter to make the giving process as straightforward and accessible as possible. After all, you don't want alumni to change their minds about giving because of a complicated donation page or a lack of payment options. Ensure you follow accessibility best practices and leverage intuitive payment processing software on your donation form to take the guesswork out of giving for your alumni.
Unlike some of the other aforementioned tips, note that these are big-picture activities that your chapter should incorporate into your daily operations over time. It'll take some work to fully adapt to these changes, but it'll make a big difference in cultivating a loyal alumni donor network.

7 Unique Fraternity and Sorority Fundraising Ideas
And now, the moment you've been waiting for! Here are the top seven ideas that are sure to drive big bucks to your chapter.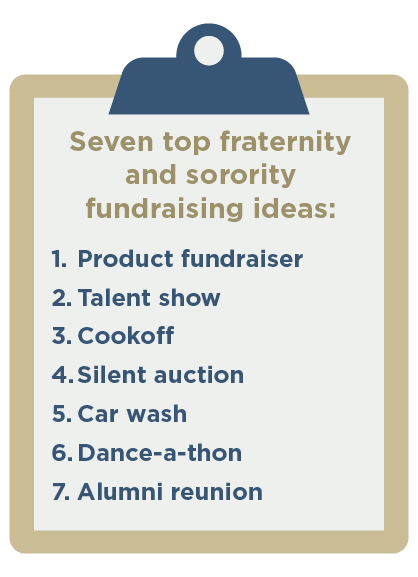 1. Product fundraiser
Who doesn't love to rock some branded merchandise from an organization they're proud to be a part of? Your chapter has the advantage to create great branded merchandise because you're already known by a recognizable symbol: your Greek letters.
To start producing and selling your branded merchandise, decide which items you'll sell and their designs. Some popular branded items include:
Hats
Stickers
Water bottles
Sweatshirts
After connecting with a product fundraising partner (who will produce the branded merchandise and sell it to you), ask your members to pick their top three favorite items via an online survey. Keep your chapter's specific guidelines about who's allowed to wear clothes with your Greek letters in mind, and, if necessary, create more general merch for donors who are outside the chapter. Then, involve your members further by asking them to submit designs for the merchandise. Once you've picked your favorite, you can order your merchandise and start selling to friends, family, and alumni!
2. Talent show
Your members have a vast array of interests and skills. Leverage their unique talents by hosting a talent show!
To kick off the planning process, ask your members who would be interested in showcasing their talent. Create a virtual sign-up sheet and communicate with your participants via an app like OmegaOne to organize rehearsals and show logistics. You can engage your nonparticipating members by enlisting them to market and run the event.
Another thing to keep in mind is how you'll monetize the event and mitigate expenses. You might not have the funds to book a performance space, but don't worry! A virtual or hybrid structure for your talent show can help keep costs low and encourage attendance at your event. You can monetize the event by only sending the meeting password to those who bought tickets online. With a little creativity and finesse, you can both entertain your target audience and raise money for your chapter.
3. Cookoff
There's a reason that cooking competition shows are so addicting! Engage your members in some friendly competition over something everyone loves—tasty food.
You can monetize the event by charging admission for external attendees to spectate. Consider raising even more money with these added challenges:
Buy an ingredient:

Spectators can support their favorite candidate by purchasing special ingredients for them to use in their dish to edge out the competition.
Join the judging panel:

Offer your highest tier of donors a special role in the competition as a dish judge.
Time crunch challenge:

Turn up the heat in the kitchen by adding a time limit to the cookoff. Your spectators can donate money to add time to specific teams' clocks so they can make the best dish possible.
With these creative add-ons, you can facilitate team bonding amongst your members while engaging your supporters and raising awareness for your chapter.
4. Silent auction
This fundraising idea is a staple of many nonprofit organizations, and your fraternity or sorority can adapt it for your own needs. First, decide if your auction will be held in-person, online, or in a hybrid format. Then, invest in an auction management tool that supports online and mobile bidding, item cataloging, payment processing, and data reporting.
Once you have the necessary tools, start sourcing your auction items. Ask local businesses if they would like to sponsor the event and donate in-kind gifts as auction items. You could also appeal to existing supporters to contribute items based on your auction's theme. That being said, ensure that you only accept high-quality, useful, and compelling gifts that appeal to your audience.
Finally, it's time to open your auction to the public! With the right tools, preparation, and items, your silent auction is sure to be a hit.
5. Car wash
Car washes are a tried-and-true fundraising event that's low-cost and simple to plan. To begin, determine a date and venue for the car wash. All you need is a high-traffic outdoor space that has water access and can accommodate many vehicles. Then, recruit your members to be carwashers and acquire their sponges, towels, soap, buckets, and hoses.
You can monetize your event by either charging a set amount per wash or by encouraging donations of any amount. Write this information on attention-grabbing signs, as well as your chapter's name and what you're fundraising for, to draw customers in. If some of your members don't want to be washers, recruit them as sign twirlers and donation collectors.
By hosting a car wash fundraiser, you'll not only be gaining revenue for your chapter, but you'll also be bringing your members together for a day of teambuilding and fun.
6. Dance-a-thon
Your members already love to dance the night away, so why not use them for your fundraising efforts? A dance-a-thon is an effective and exciting way to build community in your chapter and get more eyes on your fundraising campaign.
The part of the planning process that sets this event apart from the others on this list is the duration of the dance-a-thon. Will your participants be dancing for 6, 12, or even 24 hours? Offer your members flexibility by splitting the event into 6-hour segments so that they can take a break and come back later if necessary.
You can monetize this event in several ways. Consider adding a P2P element that requires a minimum donation amount per person to join the event. You can also offer prizes for the members that raise the most money or who stay on their feet for the duration of the event. To continue raising money through the dance-a-thon, encourage your attendees to share their fundraising page with their friends and family and ask for pledges for each hour they continue dancing. So put on your dancing shoes and prepare to fundraise better than ever!
7. Alumni reunion
Your alumni network is a key resource for achieving your fundraising objectives. Your alumni share a deep personal tie to your chapter, making them prime prospects. Rekindle their love for your chapter by hosting a reunion that inspires them to pay their support forward.
To generate revenue from this idea, consider charging admission, selling custom alumni merchandise, and selling food and drink tickets during the event. Take your event a step further by tying it to another element of their alma mater, such as a sports game or homecoming.
An alumni reunion allows your current members to connect with their brothers or sisters while alumni reconnect, all while raising important funds. Plus, your alumni will love being able to cement their legacy in your chapter!
Wrapping Up
As your fundraising campaign winds down, your work isn't done yet! Take the time to express how much your donors' and members' support means to you and the specific impact that their contributions had on your chapter. For instance, you could send a thank-you message updating donors about the scholarship their gift funded. Showing your love for supporters lays the groundwork for their long-term involvement with your chapter.
By taking the time to plan your fundraising ideas and investing in the right technology, you can fund this year's campaign and more. However, if you want expert help on your side, consider working with Pennington & Company. Their team has an array of expertise ranging from alumni giving to feasibility studies to member management. To get started with professional guidance tailored to your chapter's unique needs, reach out for a demo and enhance your fundraising prowess today!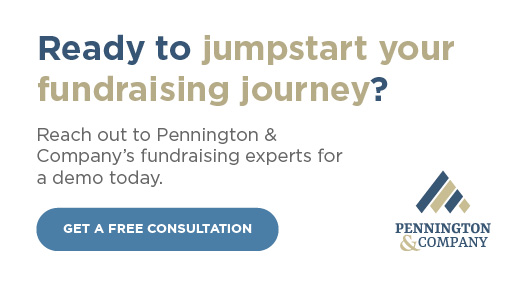 Additional Resources
Want to learn more about fraternity and sorority fundraising? Check out these additional resources: