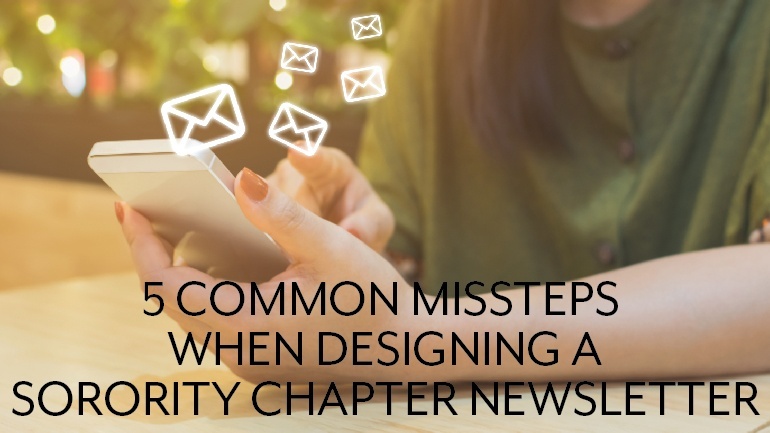 A sorority chapter newsletter sounds like a cakewalk on the surface of it. What's so hard about typing up a few little tidbits of chapter news, jamming it into a template and sending it out to your alumnae like hot cakes?
Lisa won a chapter scholarship for her GPA. A new sorority president was elected. You went over the budget for this year's philanthropy project. A few new sisters were initiated and will be living in the house. Really, you can just copy and paste from the chapter minutes. It'll be fine.
Well, if that's your approach, expect some angry letters to the editor. Or worse still, expect nothing--no reaction, no alumnae engagement, and lukewarm indifference . . . because no one bothered to read it.
Think about it. Do you even read the chapter minutes? It's an important record to keep, but it's also probably boring as sin. Now imagine you aren't even in the sorority chapter anymore and being asked to read through that stuff.
Yuck.
Unfortunately, newsletters require real effort. Think of it as contributing directly to alumnae engagement and your relationship with your esteemed predecessors.
We here at Pennington & Company want you to have the best relationship with your alumnae possible. That's why we want to guide you toward success and away from these 5 Common Missteps when Designing a Sorority Chapter Newsletter.
Misstep #5: Making Your "Sorority Chapter Newsletter" about the Chapter
You might find yourself asking, "What are they talking about? It's literally called a sorority chapter newsletter. Hello!"
On the one hand, that makes sense, but only if you enter into this whole sorority chapter newsletter writing business without considering your audience at all. Or if your audience happens to be . . . yourself. Though we're pretty sure you aren't going through all the trouble of designing a chapter newsletter just to hang it up on the refrigerator and bask in the glory of your own prose every morning when you go to grab the Cheerios.
Realistically here, the audience for your sorority chapter newsletter--and thus who you're designing the newsletter for--is alumnae. It's a mistake not to make alumnae a center focus of your newsletter. This means including an alumnae of note section, highlighting recent professional and personal accomplishments and recognize alumnae donations, as well as any noteworthy goings on of the alumnae association or of the university itself. In other words: Design your sorority chapter newsletter in a way that tells alumnae you care.
Misstep #4: Not Telling Alumnae You Care
Keeping in touch is easy. Keeping in touch in a meaningful way is not. That's the challenge of fostering alumnae engagement when designing a sorority chapter newsletter. Sorority sisters are always up for the challenge of fostering meaningful relationships, and those efforts are just as important with your newsletter as with any other relationship in your life.
When designing an alumnae-centered a newsletter, sorority chapters should take the time to get in touch with alumnae and engage with them about their lives. Note what's going on in their professional lives or other recent accomplishments or major changes in their lives. Maintain an active alumnae database you can draw from, and foster relationships that don't begin and end with the newsletter.
This has a two-pronged effect. They will know you care enough to mention them in your sorority chapter newsletter, so they will anticipate reading it. Then, when they do read it, they'll enjoy it.
Misstep #3: Constantly Changing the Design
Think of how others approach design and layout. Have you ever opened social media, let's say Facebook, and found it totally unrecognizable from the last time you logged in? Maybe that ever-present blue bar at the top is suddenly red. Maybe your news feed suddenly scrolls right to left instead of up and down. Maybe they get rid of profile pictures and when you comment there's no mirror selfie of you ready to go out and looking on point.
You put a lot of effort into that selfie! What the heck!
Doesn't that frustrate you--maybe make you a little angry? One of the keys to a successful sorority chapter newsletter is building a professional, easy-to-follow template and sticking with it. The header at the top should include things like your chapter letters, the issue number and date the letter is published. Sections should be clearly marked with whatever fonts and sizes you decide on, as long as everything's visible and straightforward.
Misstep #2: No Pictures!
We're willing to bet that with our Facebook example in the previous section, you could handle the red bar and the side scrolling, but when we mentioned the possibility of profile pictures disappearing, this is what made you the angriest.
Why? Because human beings love pictures! Of ourselves. Of others. It's just a fact of life. It's why, as wonderful and fulfilling as reading a novel can be, hobbies like reading can easily get drowned out by the more visual media of television and movies, the internet and YouTube.
We're addicted to pictures. So when designing your sorority chapter newsletter, be sure to include pictures of alumnae and chapter members who are featured. Visual media and the internet go hand in hand in the digital age, so make sure your newsletter can be accessed from the web. That way, your alumnae can access it anywhere.
Misstep#1: Not, Like, Taking Your Newsletter, Like, Seriously, You Know?
Think about how you talk to alumnae in person. What if these alumnae were standing right now in your chapter house? You're not overly formal, but you're also respectful. If you're telling them a story, you respect their time enough to get to the point without being overly dry or whimsical about it. You show respect for their experiences, and you try to honor them and learn from them.
Well, sisters, that's exactly how you approach designing your sorority chapter newsletter's tone. When you go back to look at what you've written, cut the stuff that you think alumnae won't be interested in or might get bored reading. Stick to the most important updates in your chapter news section. Highlight alumnae throughout as the newsletter's heroines, and speak to them from a place of respect. Be direct, and not overly informal or formal. Just tell it straight, like they're right in front of you.
These are what we consider 5 Common Missteps when Designing a Sorority Chapter Newsletter, and we hope you are able to avoid them as you sit down at the keyboard to put it all together into a newsletter your sorority chapter can be proud of.
What are some of the mistakes you've learned from in the past when designing your chapter's newsletter? Let us know in the comments below!