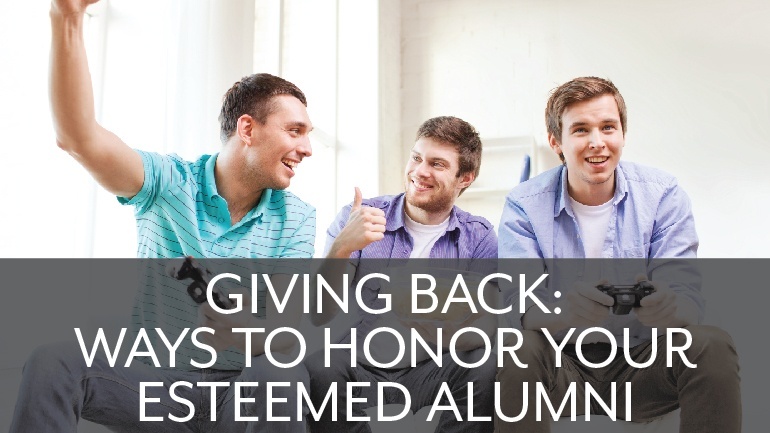 Alright, Mr. Alumni Engagement Chair, let's talk giving back.
This topic is near and dear to our hearts because this aspect of an alumni engagement officer's duties can sometimes be neglected, and that's a mistake we want to help you avoid. When other day-to-day tasks like collecting and managing a database of biographical information, distributing a chapter newsletter and soliciting donations for fundraising campaigns end up taking precedence, alumni engagement will suffer.
Now, all the aforementioned duties are important, to be sure. But a fraternity alumni chair might spend so much time targeting alumni for donations and events and harvesting data that he doesn't stop to think about how we should recognize our fraternity's alumni for what they've done for the chapter.
Think of it this way: You and your alumni aren't really so different at the end of the day. Fraternity alumni were once undergraduate chapter members. Meanwhile, you and your brothers will all one day--even if it seems impossible now--graduate and become alumni. You're all in this together. You're just at different stages of the same harrowing and rewarding journey we call brotherhood.
That's why Pennington & Company would like you to sit down and join us for a serving of humble pie, straight out of the oven, as we discuss Giving Back: Ways to Honor Your Esteemed Alumni.
Honor Alumni by Shouting "Thank You!" from the Rooftops
Alumni often want to help out the chapter with charitable giving, but they also appreciate a little recognition for doing so.
Think about it. Doesn't everybody want to know they're appreciated?
This is especially true when you pour your heart and soul (and wallet) into helping those closest to you. When it comes to fraternities, alumni sometimes are called on to give tremendous amounts of money and attention to chapter-related projects through capital campaigns. Recognizing your fraternity's alumni can foster future giving and stronger bonds between brothers new and old, but more importantly it genuinely lets them know you care about them and their contributions.
Therefore, above all else, find ways to personally thank your fraternity alumni. Thank them profusely.
You might consider asking local alumni to a fancy dinner, of which they are the guests of honor. Consider renting out a private room, and during dinner giving a speech or presentation about any capital fundraising campaigns to which they've contributed, or simply have a more personal meal with each alumnus. Ask about their families and goals, and help ease the stress of their daily lives with some good old fashioned brotherhood.
More formally, the chapter could hold a public ceremony honoring them and their contributions to any ongoing or past projects. You could have their names etched into the brickwork of the new fraternity house. And you can always just shake their hand and say, "Thank you!"
If you don't happen to be standing on a rooftop at the time, that's okay.
Honor Alumni by Recognizing Them in Print
If you're looking to go the extra mile in honoring your esteemed predecessors, recognizing alumni in your fraternity chapter newsletter can go a long way.
A fraternity chapter newsletter is often thought of incorrectly as a way to talk about the chapter. While, yes, a newsletter will talk about chapter news and important updates, like academics, awards and philanthropies, it is also often underused as a powerful tool for recognizing and engaging fraternity alumni.
Making your alumni the focus of a fraternity chapter newsletter by focusing on their achievements and the achievements of your university, as well as highlighting their generosity to past fundraising campaigns, will show alumni you're more interested in honoring them than making it all about you.
Let's also say your chapter has a web presence set up for your next big capital campaign, to raise money to update and add a wing to your fraternity house, and you're using a centralized website for fundraising.
Alumni are very likely going to give generously to your chapter, from hundreds of thousands to upwards of a million bucks. That's . . . a lot, obviously. The very least the chapter can do in return is list contributors' names on the fundraising website, and on your chapter website as well. You can also give them a shout out on social media.
Honor Alumni by Recognizing Them as Fraternity Brothers
Even if the term "brothers" is slightly incorrect when referring to fraternity alumni who've graduated and are no longer active members of the chapter, that's not the point. You're all brothers in a larger sense, right?
You can bring alumni more into the fold of the chapter in a lot of different ways. Invite them to events and chapter meetings. Ask their advice on subjects like recruitment, philanthropy and more. If you're going to want them to donate to a capital campaign for, say, house renovations, be sure to involve them in the planning and decision-making process as well. When it's all said and done, you can welcome them into the beautifully renovated chapter house they helped build.
For long-distance alumni, consider keeping in touch with fraternity communication software such as GINSystem or GroupMe. While it's not the same as kicking back together at a founder's day barbeque on a sunny afternoon in the park, you can still share intimate moments in your lives, as well as more official chapter updates, via text, pictures and videos.
Your fraternity alumnus, Bill, recently took a trip to Alaska. What was that like? Just check out the video he sent you of the Northern Lights! James is an alumnus who has moved to Australia for work, but you really want to get his take on this potential new recruit you're on the fence about. With fraternity communication software and social media, his sage advice is a click away.
However you choose to engage fraternity alumni, recognizing them as brothers will go a long way.
Expressing gratitude, as well as featuring alumni in newsletters and on websites are a few ways a chapter can give back and honor their esteemed alumni while forging a multi-generational brotherhood.
How do you show thanks and recognition to your alumni? How do you give back? Let us know in the comments below!