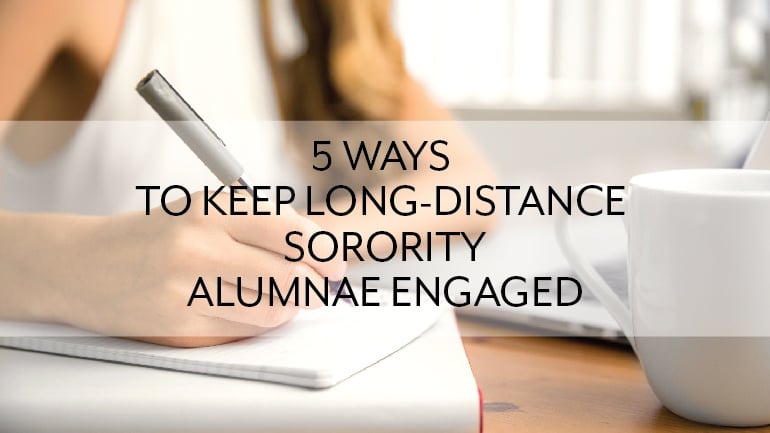 Alumnae are vital, so keeping them engaged is a crucial part of a sorority chapter's vitality. However, when alumnae aren't living a short drive away from the nearest sorority barbeque, Greek Week performance, recruitment event or chapter meeting, "engagement" takes on a new and challenging meaning for the sisters-alumnae relationship.
To give you an idea of what we're talking about, let us ask you this. How many long-distance friends have you lost touch with over the years? The answer is probably at least a few. Though if you are one of the few who're good at maintaining friendships in different area codes, you know how much effort that takes.
Here's the thing, though. Alumnae engagement is much more complicated than a one-on-one friendship, or even an on-again, off-again partnership with someone who comes to town once or twice a year. All relationships have their complications, but in this case we're talking about how to manage relationships between hundreds of sisters and alumnae.
Even for the seasoned social butterfly, that's . . . a lot.
So what do you do? Just stay pen pals and ask your alumnae for some sweet, sweet donation money when the need arises? If that's your strategy, you'll likely see your hand-scribed letters tossed in the open hearth, and you'll be told to take your "Dear Abby" tendencies somewhere else. That's why Pennington & Company is here to set you straight with 5 Ways to Keep Long-Distance Sorority Alumnae Engaged.
5. Official Alumnae Communication
First off, you're going to have an alumnae relations chairperson. Remember that social butterfly we mentioned earlier? That's the sister you want in this position. Of course she'll also have to be meticulous and studious, and the chapter may also want to seek advice from professionals at Pennington & Co. in order to keep things running smoothly with alumnae, as well as to prepare for large-scale chapter fundraising campaigns.
But what exactly are "official" alumnae communications, and how do they factor into maintaining strong alumnae relations?
Essentially, they're the avenues of communication that represent your chapter as a whole, in an official capacity.
For starters, your chapter will want to produce a professionally composed newsletter each semester. Not only that, you're going to want the newsletter to focus heavily on alumnae. Among other things, that means showcasing their achievements, tailoring the content to their interests, highlighting current events concerning your university and keeping the chapter news of note brief and focused.
When you are soliciting for donations, you'll want a direct-mail method that's flexible enough to maximize your base of giving while keeping in mind that all alumnae are individuals.
A website designed to focus on alumnae communications and ongoing fundraising campaigns is also a crucial part of official alumnae engagement. You're going to keep biographical data and achievements updated (more on that below), and you're going to want to recognize all alumnae giving.
4. Unofficial Alumnae Communication
Unofficial alumnae communication is exactly what it sounds like. It means engaging with long-distance alumnae the way you engage across long distances with anyone you care about. This can mean emailing, texting or calling to chat and catch up. These days, long-distance engagement is all about social media and software applications.
It's the computer age! You may think you're hipper than the previous generation, but you're wrong. Your alumnae are as locked into their phones as you are these days. Give them credit, and use it as a way to stay besties.
Just like official alumnae communication is all about the chapter, unofficial alumnae communication is about talking one-on-one, informally, between sisters and their predecessors. So whether you're talking chapter recruitment, or else just sharing pictures of that stunning spring break sunset from Cancun, there's software to help you engage with alumnae.
3. Requesting Alumnae Updates
One of the most important aspects of alumnae engagement, especially long distance, is making sure you're up to date on their achievements, their goals and whatever they're willing to share about their lives in general. Did Susan get a promotion at her architectural firm? Did Phillis just give birth to a healthy newborn? What about Kristen's cancer going into remission after a final round of chemotherapy?
Alumnae are human beings who find joy and hardship in their lives the same as anyone else, and it's nice to be recognized as such by the sorority they've given so much to. Part of alumnae updates means keeping current contact information and profiles on alumnae, but it also means calling them up and asking them about their lives and what they've been achieving since college, then showcasing and celebrating them together.
2. Alumnae Events
Of course you're going to invite local and visiting alumnae to recruitment events, homecoming games, formals, founders' day celebrations and anything else they might enjoy while engaging with sisters. But what about events that include out of town alumnae, or even those living abroad? You have a few options here. You can host one of those off-the-wall new "virtual" get-togethers popular among some businesses for remote employee office parties. Using communication software with either video or chat, you can all meet up on a specific date and time, perhaps on the sorority's anniversary, and follow an itinerary of fun activities and photos/videos of the chapter past and present.
Another option would be to have a large event each year. It doesn't have to be in your sorority chapter's city. You can make it easier on alumnae by renting out a location more central to everyone invited. For instance, if you have an unusual amount of alumnae living in Phoenix, Arizona, it's time to plan a trip to the Grand Canyon State.
Make the event all about them. It could be a professional symposium where alumnae give talks about their professions, or it could be a large gala event celebrating your sorority.
1. Alumnae: The Give and Take
For any kind of large-scale fundraising, alumnae engagement is give and take. Most alumnae are happy to give to the chapter that gave them so much during their college years. But that means doing your part, and getting the details of the campaign professionally hammered out. Each project has to be well-planned, feasible and actively managed. Alumnae have to know that their hard-earned money is appreciated and spent in the most effective way possible. These are all aspects of professional fundraising campaigns and alumnae engagement that Pennington & Co. can help you with.
What has been your experience with long-distance alumnae engagement? Let us know in the comments below!