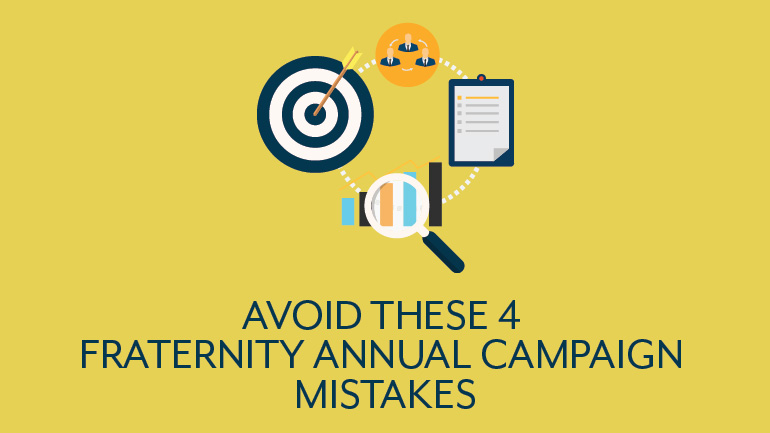 Fraternity annual campaigns are a huge undertaking.
You must get your annual fundraising campaign right—and you must do it consistently.
As opposed to the typical fundraisers your chapter handles, these aren't one-off efforts, and they're more focused on internal fundraising among alumni donors.
They're also all about engagement.
With officer turnover in the chapter, these long-term campaigns require oversight by alumni volunteers to maintain consistency between alumni and brothers' fundraising relationship.
There are plenty of ways to get an annual fraternity capital campaign right. You engage, set goals, analyze costs, strategize how to solicit donors effectively, plan your campaign, and manage donor gifts. It sounds easy when put this way.
Yet succeeding in your annual campaign efforts often means avoiding mistakes. And trust us, there are plenty of mistakes to be made.
That isn't to say you should shy from fundraising annually. It's a crucial part of maintaining a healthy fraternity chapter.
However, with so much on the line, Pennington & Company sympathizes with those who worry their efforts might end in failure. As fraternity fundraising specialists, we see the difference campaign success makes day in and day out.
Fear not. We're here to help you Avoid These 4 Fraternity Annual Campaign Mistakes.
4. Fraternity Annual Campaigns that Lack Momentum

Campaign momentum and alumni-chapter engagement go hand in hand.
That means that when you're trying to build a fundraising goal, contacting donors out of the blue and asking for some cold, hard cash isn't the best idea.
Unengaged donors who're solicited inconsistently will feel disconnected from chapter goals.
As a result, they're much less motivated to give.
Engagement doesn't start and end with a single campaign goal. Undergrads and alumni should work together to build strong, consistent engagement and communication.
Robust engagement makes building an annual campaign easier and more likely to succeed. Annual campaigns are built on the idea that donors can commit to long-term gift promises and see their investments pay off with real goals over time.
For consistency from semester to semester, an alumni volunteer should help manage engagement and major campaigns.
So keep the ball rolling. Engage alumni donors between campaign goals to keep momentum.
3. Annual Doesn't Mean a One-Year Campaign

Annual campaigns require balancing your present priorities with long-term goals. Annual means more than fundraising for just a year.
Think of your fundraising campaign goals in an elongated timeline, planning in a way that extends into future success.
You're going to prioritize this year's goals, but within the context of ongoing goals.
Use engagement to commit donors to multi-year gift promises.
Research shows that when you engage alumni inconsistently and ask for individual gifts, it's getting harder and harder to fundraise. However, if your alumni give beyond one year, their gifts increase in each of the following years.
That can make a major impact on your annual campaign success. So impress upon potential donors that the long-term investment is worth it.
They'll be making a real difference in your chapter, and you'll reach your goals more quickly as time goes on.
Build an annual campaign now that will pay off far into the years to come.
2. Annual Campaigns with No Fraternity Chapter Goals Attached

Donors want to know their money makes a difference and helps improve the chapter in some tangible way.
If there's one fraternity fundraising phrase you should avoid from here until the end of time, it's "to help the chapter." If your fundraising goal is to help the chapter, without any specific goals spelled out, you won't motivate donors to give.
It's like taking your car to a mechanic and saying you want them to "fix your car," without telling them what's wrong.
Sure, they can probably figure it out if they try hard enough.
The difference is that you're paying a mechanic. With alumni donors, you're asking them to pay you. And they have other jobs besides paying you to worry about.
Forcing alumni to imagine what their gifts will pay for can be too big a barrier for many potential donors.
Whenever the phrase "to help the chapter" pops in your head, replace it with a specific chapter goal:
To sponsor a brother to a fraternity leadership seminar
To fund an academic or need-based chapter scholarship
To set up an endowment fund
To fund a fraternity house renovation, repair, safety equipment upgrade, etc.
Other goals not covered by the chapter budget
These goals should be set periodically rather than all at once. Donors want to see their fraternity annual campaign gifts make a positive impact. Show how each gift helps the chapter reach real goals.
Tell those who give that you need them. Then show them why.
1. How Hard Is It for Alumni Campaign Donors to Give?

Annual giving is all about making it easier on donors to give consistently.
Some may be able to give a big sum all at once. But even if they can give a lot, one-time gifts simply don't engage donors during a chapter's long-term goals.
Donors who give one-time gifts also typically give less on average than those whom the chapter engages in fundraising over time.
Rather than feeling connected with the chapter's goals and seeing each contribution make a difference, they're asked for money out of the blue. It's more like being hassled than asked to take part in something bigger.
To make consistent giving easier on alumni, offer options that give them control.
Offer automated and recurring donation options. Let donors set up the amount and schedule of donations over the course of the year and beyond.
Consider engaging fraternity fundraising specialists to help manage gifts and engage donors with a professional strategy that will get the most from your goals.
Whatever your fraternity annual campaign goals, avoiding these four major mistakes will have you well on your way to campaign success.
Is your fraternity chapter interested in starting an annual campaign? What questions do you have about fundraising engagement? Let us know in the comments below!