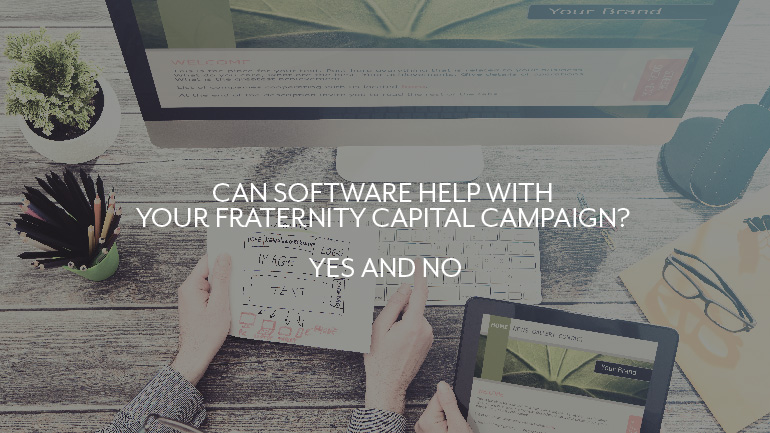 Fraternity capital campaigns are complicated.
Between the planning, engagement, fundraising and project execution, the headaches can leave you scrambling for the nearest bottle of Advil.
Often major campaigns by fraternity chapters are meant to fund such audacious projects as house renovations, purchases or builds, or to fill the coffers of a chapter endowment fund.
The cost can reach into the hundreds of thousands and sometimes millions of dollars. That means you need a long-term, rigorous commitment to fundraising and project management.
You'll also need healthy and robust alumni-chapter engagement beyond a single campaign effort.
Between the divided resources of brothers and alumni volunteers, how do you accomplish all that? The magnitude of a campaign may send you into a panic, grasping for the nearest quick-fix fundraising solution.
Unfortunately, we're here to tell you there are no such easy answers. While fraternity capital campaigns are completely achievable, they're accomplished only through hard work, determination and time.
Does that mean there are no tools to help make major fundraising easier to manage?
Sure, software and other tools can help organize and streamline your fundraising. The danger is in relying on it to replace the human relationships and efforts behind all successful campaigns.
Any great tool is only as useful as its user. Pennington & Company wants to help you climb beneath the hood and get that fundraising engine purring. Can Software Help with Your Fraternity Capital Campaign? Yes and No.
So . . . What Can Fraternity Fundraising Software Do?

In this technological age, we get into trouble when we try to replace human endeavor with an algorithm. It may make life easier in the short run, but long-term it leads to lots of problems in the way we live.
For fraternities this is especially true. Your chapter relies on relationships and working together as brothers. Obviously, there's no app for that.
One thing software does exceptionally well for fraternities, when used appropriately, is to bring their men together. For fraternity capital campaigns, software helps organize and manage projects in several important ways.
Communication Software
You already use this software informally, to chat with friends and send images of your vacations. However, communication software geared toward fraternities allows alumni to keep in touch with undergrads throughout the year.
This can be especially beneficial during intensive projects that require a lot of back-and-forth, such as major fundraising.
Use software such as GINSystem, designed for use between brothers or alumni members, and try online business-style platforms like Slack for working through project ideas.
The more engagement you can spark between alumni and the chapter, the more success you'll ultimately have with fundraising efforts. Communication software can also be used in a more formal sense to brainstorm and manage project goals, to share documents and other media, and to check in with team members.
Financial Management Software
Managing a major fraternity fundraising campaign over the long haul can eat up a lot of resources. You have to manage chapter-alumni engagement efforts, fundraising promotion, gifts from donors, documentation and other administrative needs.
To top it off, you're juggling all these things while dividing your resources among other chapter-related tasks.
When you take on a major capital campaign, you need all other aspects of your business to be running smoothly.
Finances both for the housing committee and the chapter require constant vigilance and a strong budgeting system.
Fraternity-specific budgeting software like OmegaFi's VaultPro offers the brilliant solution of centralizing financial management of the chapter budget and housing finances. The software offers an easy way to set and manage your budget, collect payments and manage banking and documents such as lease agreements.
Yet Vault also offers the essential human element we've been talking about--the software is backed by expert financial advisors who can help get your budgeting needs on track.
Once you know your chapter's finances are well managed and trending in a positive direction, you can focus more of your attention on campaign fundraising.
Automated Donation Management
Research suggests that annual fundraising is more successful for fraternity chapters than one-time fundraising efforts.
The reason for that is the level of engagement. Alumni donors want to feel consistently engaged by the chapter in any goals they're contributing to.
It makes sense, then, that asking for one-time, large gifts will be less successful than if chapters offer donors the option of recurring and automated donations.
Although each gift is a smaller part of the sum, donors give more on average when consistently engaged with these options. You can offer automated and recurring donations through software like OmegaFi's contribution forms.
Alumni and their chapters should engage one another on a personal level when fundraising, but software can help accentuate that engagement.
Why Software Can't Replace People Who Care

You care. Your fellow alumni care. Your national fraternity cares. The brothers care.
Software doesn't care.
And that makes a big difference. Software isn't motivated to see your chapter succeed in its fraternity capital campaign goals, and acting alone it will fail on that basis. Fundraising is all about people.
Unlike software, too, fraternity fundraising consultants have a stake in your success. They can help guide you through pre-campaign feasibility studies, improving alumni-chapter engagement, gift and project management and more.
In many cases, fundraising experts care as much about your chapter reaching its goals as you do, except they can dedicate full-time resources to helping make your next chapter house renovation a reality.
Software and technology give us a lot of wonderful advantages over those who came before us. You wouldn't be reading this on your smart phone right now if it weren't for mind-blowing technological advances over the past few decades.
Yet one thing people must learn--and fraternities have never forgotten--is how important our human relationships are, and how much we can accomplish when we work together.
Is your fraternity chapter planning a capital campaign? What ideas do you have about major fundraising and the role of technology and software? Let's get technical in the comments below.