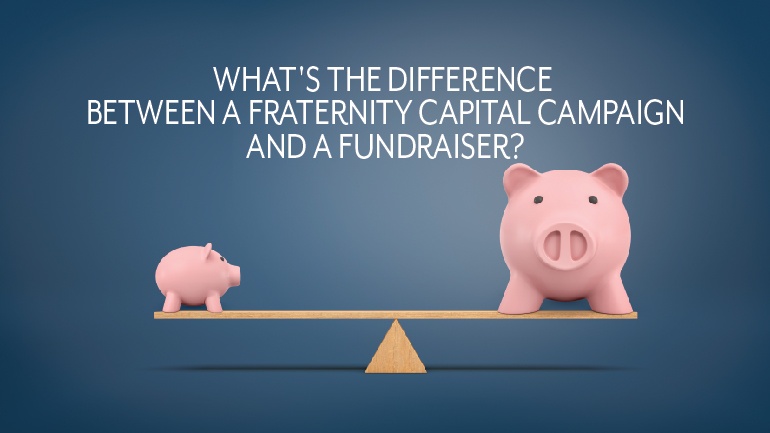 First, let's celebrate your fundraising chairman's heroic efforts.
*Cue wild cheering.*
He really goes above and beyond, planning successful chapter fundraisers faster than a speeding bullet, leaping fundraising goals in a single bound.
His cape billows majestically in the wind.
His slicked-back hair is--well, to tell the truth, it's perfect.
For this, we applaud him.
When it comes to fraternity 5ks, car washes, pie eating contests and dunk tanks, your fundraising chairman has you covered. You don't want to brag, but you're pretty sure you have the best fundraising of any chapter on campus. And you might be right.
Yet even supermen's powers have limits. Be it kryptonite or raising money for a fraternity house renovation, sometimes it's okay to admit you need help.
While you may be fully capable of reaching a $5,000 fundraising goal on your own, a house renovation or other major fraternity capital campaign goal can reach into the millions of dollars.
Even if your fundraising officer wanted to manage a major campaign like a renovation, he simply doesn't have the time, energy or expertise. Fraternity chapters aren't designed for brothers to dole out the constant resources necessary to reach such a high-level goal on their own.
Between planning, managing alumni donor gifts, project execution and post-campaign strategy, large-scale capital campaigns can take years to complete. They require consistent, detail-perfect diligence in order to succeed.
Fraternity officer positions change hands frequently, and brothers graduate each semester. On top of that, most brothers lack the specific professional knowledge required to run a picture-perfect campaign.
You have essays, lab reports and exams coming up. You have other chapter functions that need your attention. You don't have room in your schedule to become a capital campaign expert, too.
Face it. You can down energy drinks all you want.
You still have to sleep sometime.
But for now, Pennington & Company beseeches you to skip that afternoon nap and microwave a cup of coffee. We're here to help you understand the Difference between a Fraternity Capital Campaign and a Fundraiser.
Money, Honey: How Much You Need for a Fraternity Capital Campaign
The Elvis Presley song "Money Honey" came long before your time. You're probably more likely to recognize Lady Gaga's song of the same name--although of no relation to the Elvis tune.
Oh, just admit it already. You listen to Lady Gaga.
Either way, you can guess where we're going with this reference. Money gets lyricized in popular music because, unfortunately, it's a necessity of life.
You can't even snag those weekly rations of Ramen noodles without money, let alone tickets to Lollapalooza.
Talk about a bummer.
And when you need a fraternity capital campaign? You definitely need money.
Not just a little bit of money. We're talking Elvis and Gaga money--well, not exactly. Close enough.
A car wash has great potential to help your chapter raise thousands of dollars, but it has an upper limit of realistic, achievable goals. That is, unless you want to set up a car wash franchise to front your dirty money like Walt from Breaking Bad.
PSA: Don't do that.
A large-scale fraternity capital campaign means you have to target alumni donors to reach your goal. Some house renovations or new house purchases range into the millions of dollars, although the amount may be more or less depending on the local housing market and your chapter's specific needs.
These kinds of goals will never be achieved through conventional fraternity chapter fundraising.
Your chapter, national advisors, housing committee and anyone else involved need to carefully plan. This means figuring out how to engage alumni in your campaign through recurring annual gifts, since these are likely to be your lead campaign alumni donors. Formulate realistic expectations of alumni giving, decide who will volunteer for your campaign, and so forth.
Can you reach your capital campaign goals through alumni giving? In other words, can you get that money, honey?
If You Could Turn Back Time . . .
We're sorry to inform you that you cannot, in fact, turn back time. Even if you're Cher. Time is finite, and this goes double for you busy undergraduate brothers.
While a typical chapter fundraiser may require some planning and a weekend or two to execute, capital campaigns take a lot of time--sometimes years.
A lot of that time goes into planning. Your chapter needs to have a detailed, well-researched plan going into a major campaign, including a comparative marketplace cost analysis, an itemized list of expenses compiling your goal, and a nuanced understanding of alumni fundraising engagement.
It takes time to manage alumni gifts and other aspects of a capital campaign, and it takes time to execute your project. A house renovation will take, at minimum, several months to half a year, probably longer. Closing on a new house will probably require less time, but it could still take months.
Brothers may come and go from the chapter in that time. It's important to have a consistent, sustainable plan over the course of a capital campaign.
Fundraising Experts Can Help Your Capital Campaign Sing
This is surely a lot to take in.
As you can see, a major capital campaign can quickly overwhelm a fraternity chapter's limited resources.
While you wouldn't call in a group of fundraising experts to help you host a karaoke contest, they can be a lifesaver when it comes to a major campaign. Good fundraising consultants can help research and plan your campaign, determine its feasibility, guide your chapter's alumni donor engagement and manage a campaign to its goal.
National fraternities and housing committees may have some experience with running big-time capital campaigns for their chapters, but they're also engaged with a plethora of other pressing tasks in managing your organization. Professional fundraisers will focus their continuous efforts on managing your chapter's campaign goals, freeing up your fraternity's vital resources.
Is your fraternity chapter planning a major capital campaign? Are you struggling to make that leap from typical chapter fundraising? Tell us about your concerns in the comments below.