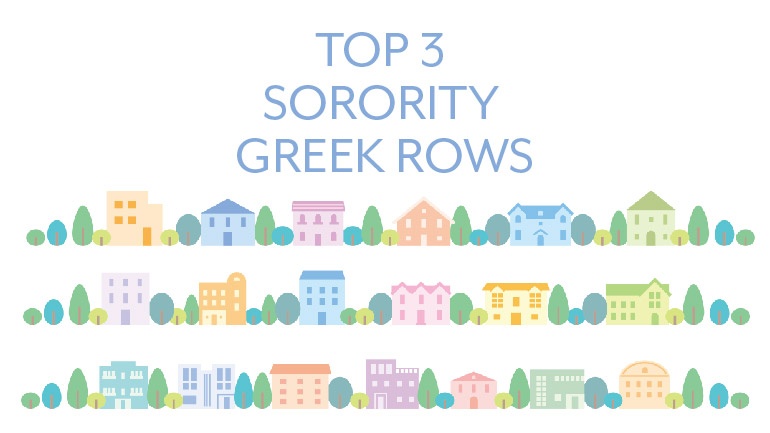 Greek rows come in countless shapes and sizes. No two are exactly alike. If you take the time to admire them, you'll see that they represent the beauty of community and each university's unique Greek culture.
While each sorority house will bring its own identity to the mix, its own history and architectural style, a great Greek row will bring all the puzzle pieces together.
A house can really show a sorority chapter's inner spirit and individuality. A Greek row offers a way for each house to connect to the broader history of their university campus.
In some cases, architects or building styles popular in a certain era are immortalized. For younger universities, Greeks can put a stamp on their identity going into the future.
The really great Greek rows feel like a world unto themselves. Each has a way of making sisters who live there feel at home. Each is both a part of and unique in its respective university.
There's something that lets a student walking past Greek housing know that they've stepped into a special place, unlike anywhere else. And we think that's worth celebrating.
While we can't include all the awesome Greek housing out there, Pennington & Company wants to showcase what we think are 3 of the Top Sorority Greek Rows.
University of Alabama
Tuscaloosa puts the state of Alabama on the map when it comes to hard-nosed SEC sports. The schools of the SEC have some killer sorority houses as well.
The University of Alabama does everything big, and won't settle for just one or two list-topping houses. This school sports one of the biggest Sorority and Fraternity presences in the nation, with nearly nine thousand students who are members of Greek letter organizations. It boasts a Greek row of equally epic proportions.
The first sorority formed on campus in 1904. Since then, one out of every four students has pledged a Greek chapter.
From the formidable lakeside brick manse of Kappa Delta, to Chi Omega's wrought iron balconies and welcoming bay windows, to Alpha Delta Pi's towering Greek pillars, many of these sorority houses have been renovated significantly, yet still hold the university's stalwart character at heart.
As the university grew from the mid-19th into the 20th century, it began to take on its current motif of red-brick, Greek-revival style buildings, and many of the sorority houses lining Colonial and Magnolia Drives encapsulate that history perfectly.
Sewanee: The University of the South
Just northwest of Chattanooga, in the heart of the ancient Domain forest, sits the stunningly beautiful Sewanee campus.
Neo-Gothic stone structures lend this university its timeless stature, and if you were to stumble onto campus without knowing where you were, you might think you'd been transported to the setting of a fairy tale.
One of the most breathtaking buildings is the All Saints' Chapel, a castle-like edifice built in the mid-20th century by famous architect Ralph Adams Cram. Some have compared it to France's Notre Dame Cathedral, and it certainly earns that worldly distinction.
Though Sewanee seems fixed in an idyllic past, look no further than their sorority housing to see how they adapt to the future--without losing any of their architectural charm.
The university began plans several years ago for sororities such as Kappa Delta, Kappa Omega and Gamma Tau Upsilon to move from their long-standing double- and triple-wides to newly constructed sorority housing. The housing project faced some initial opposition, but many students seem to have come around to the new housing situation.
The new sorority townhouses were designed to maintain Sewanee's historical architectural style--similar to the fieldstone-style Tuckaway Hall, built in 1929, yet provide an updated experience for sisters.
Sewanee's a tight-knit community, with only a few thousand students, but their Greek life thrives. Some chapters are on the smaller side, but produce sisters as vibrant and successful as any in the country.
Their Greek row sorority housing is just one of Sewanee's many unique examples of otherworldly beauty. Sisters within these walls take the school's mission to heart, "for students to live with grace, integrity, and a reverent concern for the world."
Washington and Lee University
In Lexington, Virginia, a private liberal arts college rests placidly surrounded by mountains, valleys, forests and rivers.
Several sororities of national renown, including Chi Omega, Alpha Delta Pi, Kappa Kappa Gamma and others are among those who call the quiet campus of Washington and Lee University home.
What strikes you immediately about this campus, beyond the breathtaking scenery, is the gorgeous historical architecture. Several of the oldest red-bricked, Greek-columned buildings make up the stunning campus Colonnade, designated a National Historic Landmark.
Facing the Colonnade is Lee Chapel with its pointed clock tower, built in a Victorian style with brick and native limestone in 1867.
Almost all the buildings on campus hold historical significance, and some house the university's treasures--its ceramics collection, an authentic Japanese tea room and the chapel itself, which doubles as a museum.
Framed by a copse of trees, the university's sorority Greek row lines a lush, sloping lawn. They share a unifying architecture to match the impressive Colonnade, in varying configurations of red brick and white pillars.
The lines and shapes of the houses, the way this Greek row curves so that the houses begin to face one another slightly, pleases the eye and the heart. It's no wonder sisters at Washington and Lee proudly call this place home.
Whether you're a sister at a big state university with tens of thousands of students, or part of one of those campuses where everybody knows everybody, be proud of your sorority Greek row. Your university has its own unique history, and your sorority chapter house takes an active part in that history.
What's unique about your sorority Greek row? What does your chapter house say about your university's history? Let's hear all about your proud heritage in the comments below.