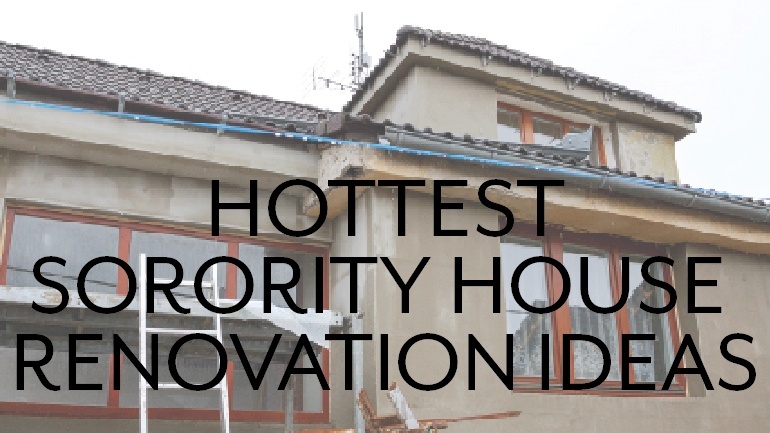 Sorority house renovations are not cheap. They are often long-term projects that on the high end can cost upwards of millions of dollars and require fundraising on a massive scale. Raising money from alumnae donors for renovations and the construction itself can take years.
In other words, sorority house renovations need to be well planned out. Every i must be dotted and every t crossed. Well, we don't actually know how many i's and t's there are involved in a chapter house renovation project, but what we mean is that you're going to want to have every single detail ironed out before you even think about presenting your ideas to alumnae.
What is your renovation project going to actually entail? Often there are aspects of a sorority house renovation that are necessary rather than cosmetic, such as updating fire sprinklers and alarms, or dealing with other health and safety hazards. Maybe there's water damage to the old study area, and it's creating mold. There's a chance these types of house problems may be happening with your chapter as well, since so many sorority houses are historic buildings that are anywhere from a half century to a century old.
If you've gotten along until now without any major past renovations, we're frankly surprised and kind of impressed. And a little scared.
However, not all aspects of a renovation are simply to fix what's behind the walls and ceilings, the things you're glad are there but you'll never really enjoy. Every sister likely also has a renovation wish list, the things they'd love to see in a renovation project. These are aspects of a house renovation that serve no purpose other than being awesome and making sisters' lives more luxurious. The term "chocolate fountain" comes to mind, but maybe that's just us. So let's talk a little bit about our renovation wish list with some of Pennington & Company's Hottest Sorority House Renovation Ideas.
3. Spice Up the Sorority House Study Lounge
This advice can be applied to really any room in your sorority chapter house that serves a purpose other than fun. When looking for a way to justify the cost of your cool renovation ideas, focus on areas of the house that will be used for official chapter activities.
Think about it. Studying kind of stinks, even when you really like the subject you're learning. It's time-consuming and repetitive and your back hurts and you need a soda and . . . .
Okay, so, we all know study hours are a fact of life in a sorority house. But what about your study area is so unappealing that it adds to your burden of being a student, when it should be making life easier? If you need to enlarge the chapter's study hall room, that's something to consider. Adding large windows to let in the natural sunlight help relieve eye strain. Add working printers and scanners, comfortable chairs (but not too comfortable), and--why not?--a fancy new espresso machine.
Consider how this style of upgrade might make any similar type of room in the house more fun and enjoyable. What about the chapter room? Could the bathrooms use an upgrade? Do the kitchen and dining areas need to be modernized a bit? Focus on making the spaces you need nicer, so using those spaces won't feel like so much of a chore.
2. For Sorority House Renovations, Think Recruitment
There are the aspects of a sorority house renovation that are not safety requirements, and they're not directly tied to official chapter activities. Remember that sorority house renovation wish list we were talking about earlier? These are usually the ideas that top those lists.
A new heated pool, a huge upper-story deck, massive crystal chandeliers, expensive leather furniture and a new flat screen TV in the common area. Vaulted ceilings. Spiral staircases. Exterior landscaping. Updates to the architectural style. We could go on forever, but we each have our own ideas about what awesome new renovation features would make a sorority house flat-out amazing.
How do you justify these dream renovations? Simple--recruitment. Focus on the renovations sure to draw the most potential new members. Your sorority house should never be your main selling point when scouting out new sisters--your chapter values should take center stage every time. However, a decked-out sorority house with all the trimmings certainly won't hurt when you're trying to convince potential new members about the relevance of your chapter on campus. And recruitment's not a bad selling point to alumnae either.
1. Renovate Your Sorority House with Tradition in Mind
In today's culture, we all want the latest, most popular thing. We want the newest iPhone, the newest model car, and the newest fashion in clothing. But one thing sorority life teaches you is that tradition matters, too. In fact, tradition is the foundation of everything that makes your sorority chapter great. That's why you had to memorize all that stuff about your founding sisters and your common values and goals when you first became a sister, remember?
This philosophy about sorority life applies to your chapter house renovations as well. On the one hand, going for top-of-the-line changes might be appealing. On the other hand, the house does its sisters and alumnae a disservice by abandoning tradition in favor of temporary luxuries. Consider what about your chapter's life in the house is steeped in tradition. What are some of the house's features that have been loved and used by sisters generation after generation? Is there an old brick fireplace that the very first sisters stoked on cold winter nights? Are there exposed rafters in the common area that are still made of the original oak? What else in the house is important to your chapter? When you're trying to convince alumnae how awesome your sorority house renovation will be, and to make alumnae feel welcome in your renovated sorority house, showing them you care about shared traditions will go a long way.
What's on your sorority house renovation wish list? Dream with us in the comments below!