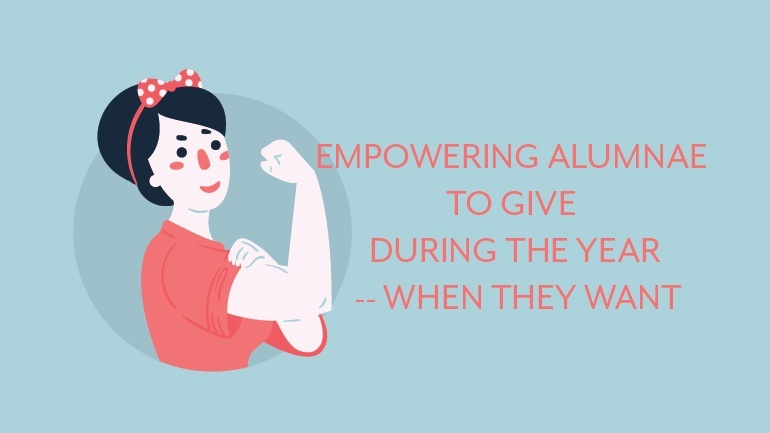 As sorority sisters, you have a hard enough time garnering alumnae donations for a limited capital fundraising campaign. This might lead you to believe that asking for annual donations poses a much bigger challenge by comparison.
It makes sense when you apply a certain kind of logic.
It's also completely backward.
While it may seem like less fundraising equates to more giving toward those goals, one-time gifts and infrequent fundraising can present serious roadblocks when soliciting alumnae.
When your chapter lacks regular fundraising engagement, this creates one of the biggest obstacles to giving.
Some chapters make the mistake of infrequent engagement, only approaching alumnae when they need money. Not only do these chapters not engage alumnae with fundraising beyond a single donation, they don't really engage with them on a personal level in the first place.
Enter sorority annual campaigns stage left.
What's an annual campaign? We're glad you asked. Any campaign effort to engage alumnae in fundraising throughout each year helps your chapter garner stronger gifts. You can achieve this through setting specific fundraising goals, like an academic-merit sorority scholarship or sponsoring a sister for a leadership conference.
How often you fundraise and what kinds of gifts you ask for both influence alumnae fundraising engagement, for better or for worse.
One-time gifts generally have a low return for the chapter, and writing a big check doesn't engage alumnae in your chapter projects. This is where recurring donations come into play. What if you could get more out of less? That is, what if recurring gifts of smaller amounts encouraged alumnae to give more overall?
Research shows that this is precisely the case. That's why Pennington & Company wants to talk to you about Empowering Alumnae to Give During the Year--WHEN They Want.
What Annual Recurring Donations Mean for Alumnae
Empower your alumnae, and you'll see the fruits of your labor returned tenfold. The biggest open secret of alumnae giving is that--wait for it--alumnae want to give.
Not all alumnae, and not all the time, but as a general rule it's true.
Alumnae were once in your shoes.
They had to ask the sisters who came before them to give to chapter fundraisers. They had to work hard to reach their campaign goals, so they know the pressure you face as an undergraduate member.
Yet alumnae get caught up in their busy lives. Many don't live in the city where they went to school, and they're working hard at their careers and life goals. Without living next door to the chapter house, it's easy for them to lose track of sisters' needs and goals.
It's up to you to properly engage alumnae and make giving as easy and seamless as possible.
Build meaningful relationships with alumnae through robust engagement and communication efforts, even if they aren't local enough to drop in for a chapter meeting or a founder's day barbeque. At minimum, produce an alumnae-centric sorority chapter newsletter regularly to showcase their accomplishments and keep them apprised of important chapter and university news.
When it comes specifically to fundraising, the more options for giving, the better. Move alumnae away from one-time gifts and encourage recurring annual gifts.
Recurring gifts give alumnae donors the option to stay engaged in chapter fundraising with smaller amounts throughout the year. This way they can see the chapter reach tangible goals each time they give. It also shows you care about their personal finances enough to offer them flexible giving options.
The bottom line is that recurring annual donations empower your alumnae to give what they want, when they want.
What That Means for Your Sorority Chapter
Recurring donations empower your alumnae and offer them a dynamic way to give; they'll also bolster your chapter's fundraising goals.
In other words, it's a win-win. Wins for everyone. Lots of winning.
When coupled with dedicated annual campaign efforts, Greek fundraising research shows that recurring donations result in more frequent and bigger alumnae gifts overall.
If an alumna gives annually, her second-year gifts will likely to grow some from the first, and if she gives a third year, the amount per gift increases again. Do the math and you'll see that you're reaching your annual campaign goals much faster with recurring gifts.
Retaining alumnae donors can no doubt present a challenge to your sorority chapter. According to the North American Interfraternity Conference, only about a fourth of donors renew their contributions after the first year. A robust, well-prepared annual campaign, dedication to a recurring donations model and continuous alumnae fundraising engagement are more important to your chapter than ever.
In the end, any level of dedicated alumnae giving you can garner is a victory.
How Fundraising Professionals Can Help
The sorority fundraising landscape continues to grow more complex and treacherous, with fewer donors committing each year to annual giving. Without professional planning, fundraising campaigns can go off the rails pretty quickly.
Consider consulting with fundraising professionals to assess strengths and weaknesses of your campaign strategy. A good fundraising consultant can guide your chapter toward proven fundraising techniques through professional experience and carefully curated research.
Fundraising experts can lead your chapter past the pitfalls of major capital fundraising campaigns. They can also help you learn to manage a healthy campaign for annual alumnae giving.
From feasibility studies to alumnae engagement, donor solicitation strategies, case statements and execution of your annual campaign, getting the details right can make or break your fundraising efforts. Collecting the right data and putting your best foot forward is the only fundraising path worthy of your chapter. Consider how professionals can help.
Is your chapter planning an annual campaign? What questions do you have about annual alumnae giving and recurring gifts? If you've run an annual campaign in the past, what advice would you give to other chapters? Let's talk sorority fundraising in the comments below.