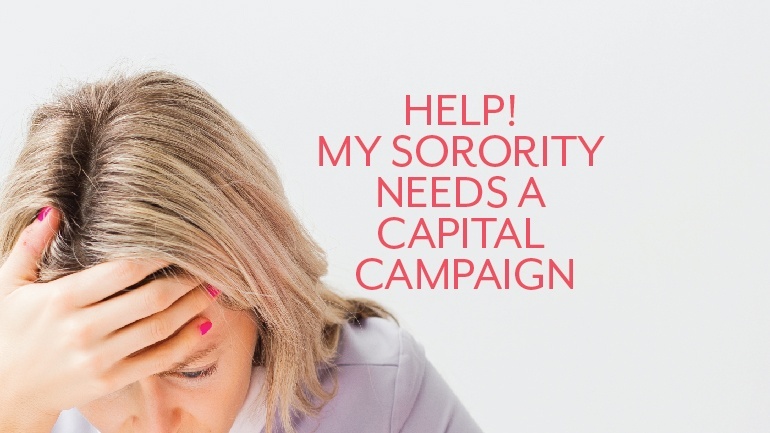 Fundraising is never easy.
Not only that, but while short-term, small-scale fundraisers for philanthropy or other causes can at least lead to immediate results, large-scale sorority capital campaigns can last years before you see the fruits of your labors.
These types of fundraising efforts are not exactly the most beloved aspect of sorority life.
Even so, it becomes necessary for sisters to take on these campaigns when the need for massive funding can't be met by the usual methods of sorority budgeting. These types of projects typically center on large chapter investments such as a purchase, construction, restoration or renovation of a sorority house. Fundraising goals might reach into the millions of dollars.
If this all sounds like a lot to take on for a sorority fundraising committee, it is. In fact, it's often too much for undergraduate sisters to juggle with school, work, social lives and regular chapter activities.
After all, sisters are students first and foremost, not fundraising consultants. Even if you're the fundraising chairperson, you're not expected to be an expert.
Luckily for sorority chapters across the country, there are expert fundraising specialists who can work with sisters to achieve their campaign goals.
But to get to that, first you have to have a basic grasp on planning a sorority capital campaign. Do you, in fact, need a capital campaign? If so, what do you want out of it and what do you need in order to achieve it?
Pennington & Company would like to delve into all these questions and more. Here's what to do when you find yourself pleading, "Help! My Sorority Needs a Capital Campaign."
How Do You Know You Need a Sorority Capital Campaign?
Usually a sorority chapter deals with a manageable cash flow involving membership dues and chapter budgeting, or the influx of outside donations for philanthropy fundraising or other underbudgeted goals.
However, there are limits to what undergraduate sisters can achieve through the conventional fundraising avenues. Therefore, the first thing for a chapter to assess is what makes a sorority capital campaign different from other fundraising efforts. Some crucial questions to consider include:
How quickly can we reach our goals and complete the project? A semester? A year? Several years?
What's the scale? How much planning and specialized knowledge do we need to pull off this project?
How big is the fundraising goal? What approach to donors will work best?
What do national advisors, alumnae and the housing corporation think about the project?
Is this something we can handle within the chapter, or are outside professionals needed (i.e. contractors, architects, real estate specialists and fundraising consultants)?
Sisters have a lot on their minds. We understand this. You have a term paper to write, a rush week to plan, and you definitely don't have unlimited time to manage a capital campaign.
However, these kinds of basic questions can guide your chapter into understanding the scope and size of your fundraising efforts, and how much preparation and effort you'll need to make your sorority capital campaign a success.
Okay, So You Need a Sorority Capital Campaign. What Now?
However busy you may be, the chapter has to put some effort into a campaign. Otherwise it is doomed to failure. You can't simply hand off your fundraising to someone else. Yet you also don't have the huge amount of resources needed to run the campaign on your own. The chapter simply wasn't designed to do this independently.
Part of the effort you'll put in will be to put the right pieces into the right places, to seek guidance and delegate when necessary.
Let's say you're going to renovate your sorority house. It's a fairly typical reason to start up a capital campaign project. Renovations cost a lot of money. The chapter doesn't have a lot of money. So you turn to your alumnae for help.
Yet where many chapters make their first mistake is when they approach alumnae too soon. To answer the question "what now," sisters need to first work with their housing corporation or other national sorority officials to figure out what the feasibility of the project is and how much it'll cost. To do this, you need to assess the current real estate market, compare estimates from builders and architects and calculate every cost into an itemized list.
This is how you determine your fundraising goal. And once you have your goal in place, that's when you approach alumnae for donations, as well as to see if any might be interested in volunteering with project management. This will ensure alumnae donors have a strong idea about how much you're asking for over the course of the campaign, as well as how risky their investment is. Directly involving alumnae encourages them to give an amount that reflects your overall goal, instead of making them do the guesswork.
The Sooner You Hire a Sorority Fundraising Company, the Better
There are plenty of things the chapter can do on its own to get the ball rolling for a sorority capital campaign. You can engage your alumnae early and often, build an alumnae-centric newsletter, feel out the initial planning and conduct the appropriate research with the help of sorority officials.
Once you've done all that, it's time to bring in the pros. While a sorority may be capable of pulling off a capital campaign, the chances of success when they engage with expert fundraising consultants goes up exponentially. It's invaluable to have someone who can help manage planning and execution of your fundraising, as well as gift management, alumnae engagement in your capital campaign and more.
Bottom line: While your sorority chapter shouldn't run a capital campaign alone, there are some basic steps you can take to ensure things go as smoothly as possible, with the greatest chance of success.
Are you planning a sorority capital campaign? What questions or concerns do you have? Let us know in the comments below.