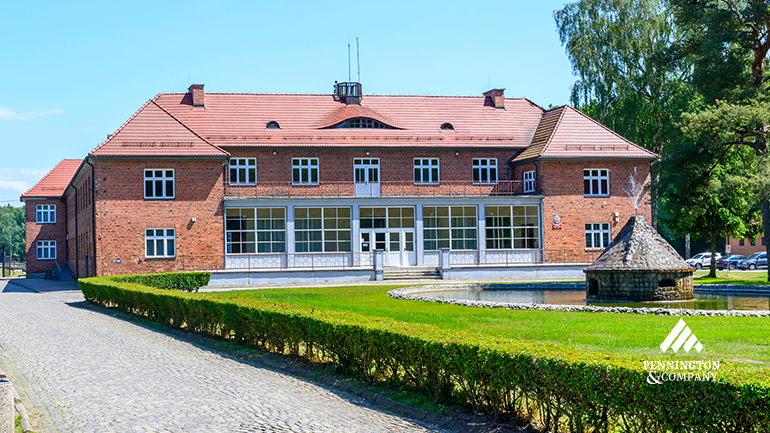 Living in a fraternity house—whether you're an undergraduate or alumni—can be an incredible privilege.
Fraternity houses fortify brotherhood, create an environment of constant fellowship, and bring collaboration and shared wisdom to a new level. In short, fraternity houses and the experiences they yield are irreplaceable. But…
Not all fraternity houses are the same.
And if you're reading this and had the displeasure of spending your formative years in a not-so-good one, you know firsthand how much a fraternity house in need of the bare necessities can miss the mark and produce a negative experience for its membership.
When that happens, one of two things can occur upon that brother's graduation and progression into post-graduate life.
He can vow to create better conditions for his younger membership by donating to his alumni association.
He can move on from his negative experiences and the fraternity as a whole.
Experiences matter, and if you want to be a fraternity that provides a living experience worth remembering—one that creates a deeper love for the fraternity—and inspires support from your past members for years to come, you'll want to take a look at what the best fraternity houses share in common.
Here are the top four to remember...
4. Social & Brotherhood Spaces

A social or brotherhood space is a room or area dedicated to fostering an environment of fun, engagement, and social interaction. Whether that space is a game room, a multipurpose room, a gym, a movie room, a basketball court, etc., having a designated area to relax and talk with each other is essential.
Brotherhood spaces allow your undergraduate membership to fellowship and engage, and this closer connection helps create a lasting bond over time. These spaces also serve to establish and develop your fraternal culture internally.
It's important to remember that when freshman brothers are first entering a fraternity house, they're seeing their older brothers in a new light. In fact, they're seeing them as fellow equals for the first time, rather than teachers and judges during their pledge process. This shift in perspective requires some time for adjustment and forming bonds with those you once looked up can be as simple as playing a game or watching a movie together.
So create a space for them to connect, and you'll be aiding the formation of bonds that will last a lifetime.
3. Leadership Spaces
A leadership space is a collaborative space dedicated to meetings and other organizational operations.
Fraternity houses can be an incredibly fun environment, but if you want your undergraduate members to operate efficiently, they'll need a space reserved for planning, goal-setting, and execution.
These rooms should promote discussion and collaboration in a quiet and productive environment. For example, these rooms can be conference rooms, meeting rooms, or lecture-style great halls large enough to incorporate your membership's general-body meetings.
Give your undergraduate leadership complete access to smaller rooms where the executive board can meet and strategize new goals for the chapter. These smaller rooms should be private in nature, allowing leadership to plan out the direction of the chapter in peace to ensure future success.
2. A Study Area

When it comes to the wellbeing of your undergraduate members, there are few higher priorities than their academics. Without school—and their continued good-standing as a student—they cannot be a member of your fraternity, so it's important to ensure they have an appropriate space to focus and do their schoolwork; this means you need a designated study area.
Fraternity houses can be a source of great fun and communal interaction, but they can also be an incredible distraction for brothers trying to focus on their studies. When the library isn't open, or it's too packed to be productive, you'll want to create an internal environment for your membership that allows them to remain productive.
This means creating rooms that are separate, isolated, and distant from your fraternity house's common areas. These study rooms should have no monitors in them unless they're coupled with desktop computers. The area should also have designated quiet rooms that are equipped with whiteboards and markers.
An ideal workspace/computer room should be an all-in-one study area incorporating elements you'd find in a school library such as printers, open computers, work tables, and snacks within reaching distance. Since a fraternity house can get pretty loud and rowdy, be sure to create a set of hard rules for how this study area is maintained and respected—particularly in enforcing quiet hours.
1. A Complete Fraternity History and Archives
Preserving the culture and history of your organization from the national level down to your individual chapter is vital in instilling lasting passion among your membership. The best way to preserve that culture is by keeping a complete fraternity history and archives in the house in its own special area.
Whether it's undergraduate brothers that are new to the fraternity or ones that have been there for years, your members need to feel a sense of pride and momentum; an idea of where they've been, how far they've come, and the accomplishments they've had in where they're going.
You can keep this history in a library, an awards case, or a gallery, just remember that this display isn't just for show. An accessible fraternity history and archives not only honors the past, but gives your youngest members immediate access to older members, the ability to see pictures from the past, and a deeper connection to the longevity of the organization and its greater purpose.
When you're working to create more committed brothers, that will act in the best interest of the fraternity for the long term and be willing to donate your organization later in life, it begins with a deeper bond to the fraternity itself.
And thankfully, one of the most lasting impressions of a Greek experience starts in the fraternity house.
So make yours a great one.
For free resources, guidance, and other materials to help you with your alumni fundraising plan
Call 1.785.843.1661 or contact us directly here.