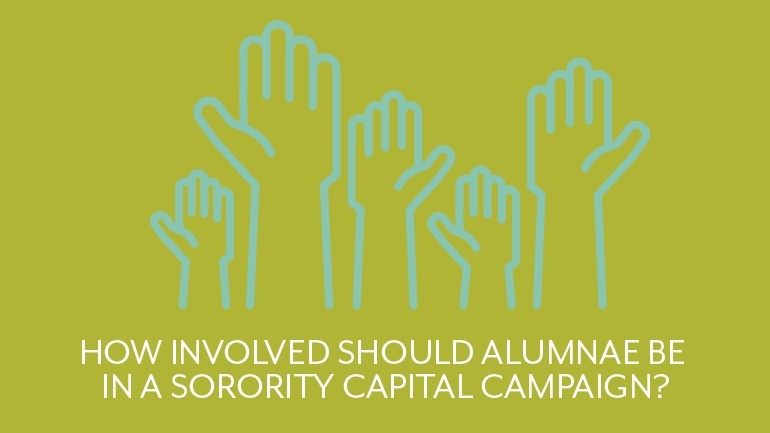 When sisters run a capital fundraising campaign, they seek donations from alumnae. It's a constant of sorority life, like eating, sleeping and dues.
Alumnae will always be your primary donors for major fundraisers, such as a sorority house renovation or a scholarship fund. You'll also solicit annual donations from alumnae for a variety of other chapter needs. Without these gifts, the chapter will struggle to fund important programs and functions. Yet sometimes you need your alumnae's help beyond a dollar amount scribbled on a check.
You might think: Alumnae give, and they give, and they give. How could we possibly ask them to do more?
First, let us say that if you are thinking that, bless you. You're one of the good ones.
You're also thinking about fundraising engagement completely backward.
Approaching alumnae about a capital campaign only in terms of money will garner much less participation than if your chapter engages them more holistically.
It's true that not all alumnae have the time to manage your campaign or take on a major role, but tailoring each alumna's engagement to her abilities, availability and willingness to help will bolster your chances of fundraising success.
If you're wondering How Involved Alumnae Should Be in a Sorority Capital Campaign, you're asking the right question, and Pennington & Company has answers.
Calling All Volunteers: Will Alumnae Give Their Money
and

Their Time?
Short answer: Yes.
Of course, not every alumna you approach will be available to volunteer, just as not every fundraising solicitation will garner gifts. Accept what alumnae can contribute. While you shouldn't hesitate to ask for the help you need, you also shouldn't push too hard, as this will only turn alumnae off your project and hurt engagement.
Find the alumnae who want to be more involved with your campaign but don't quite know how. Guide them into roles that best suit their time and abilities. Alumnae who haven't offered a fundraising gift can still help in other capacities.
Don't ask alumnae simply to "volunteer." Much like you shouldn't ask them for donations to "help the chapter," alumnae may find such vague generalities overwhelming and impossible to parse it out themselves. Instead, offer specific roles.
If you're funding a house renovation, for instance, an alumna role might be to help conduct research for project feasibility and a relative cost analysis. Another alumna might be capable of taking on a larger role, such as project manager. Others might perform lighter duties such as handling media or Facebook and Twitter promotion of the house, pre- and post-renovation. You may also need someone to act as an alumnae liaison to the national organization, housing committee or university during the fundraising and construction process.
Whatever needs an alumna can fulfill by volunteering, her efforts will show in your sorority's fundraising campaign results.
While ultimately your goal is to collect donations, raising money isn't the only fundraising engagement that matters. Encourage alumnae participation in every possible way.
Insiders, and How They Can Boost Fundraising
The fundraising process is the first hurdle to clear before beginning any large-scale project. A poorly-managed fundraising campaign will fall flat, delaying your project or even sinking it.
Proper alumnae engagement can fulfill a crucial element of the fundraising process and provide the boost it needs to flourish.
The chapter side of alumnae engagement should include robust, continuous efforts and highly effective communication, such as what you can achieve through a solid chapter newsletter.
Yet when the chapter manages alumnae relations on its own, engagement will be less effective. To avoid this, ask your alumnae board to oversee certain crucial aspects of communication. Your chapter will gain more coherent and consistent communication, since the undergraduate alumnae officer position changes hands often and this can lead to inconsistencies if she's solely in charge of the process.
Alumnae tasked with chapter communications may also be able to promote or help produce communications that encourage their peers to donate to your capital campaign. These "insiders" may be adept at navigating the alumnae world in ways undergraduate sisters are not.
Indirectly, these alumnae can boost fundraising by facilitating a stronger chapter-alumnae bond through collaboration on communication and engagement. In a more direct sense, they can promote a specific fundraising campaign using their inside knowledge of what motivates alumnae to give.
Which Came First, the Fundraising or the House?
It's the age-old question. Actually, we think the original version had something to do with poultry. But for sorority sisters, a major road they must cross is whether to embark on a house project before or after approaching alumnae for fundraising.
In many cases a sorority won't have that huge chunk of funds readily available, and a loan makes no sense if you can raise the funding through alumnae gifts. At that point, the question becomes moot.
Yet if you do have the money, you might wonder, why wait? Why go through the lengthy process of fundraising beforehand when you can have that new wing built on to your chapter house in time for spring break?
Don't make this mistake.
In terms of alumnae engagement, you'll struggle to convince your esteemed predecessors to give when a project has already been completed. Alumnae want to feel they're contributing to a tangible progression of goals, and they'll want to participate in the exciting process of breaking ground and seeing a project through to completion.
You'll also miss out on the opportunity for alumnae to volunteer and offer non-financial help.
This one's not much of a riddle. The answer is clear: Engage alumnae in your fundraising campaign before you complete a project.
How involved alumnae are in your sorority capital campaign depends on how much they want to be involved. If you engage the right alumnae at the right time with the right information, you may be surprised by just how much involvement you'll get.
Are you planning a sorority capital campaign? What engagement efforts have you made so far? What questions do you have? Let's talk fundraising in the comments below.