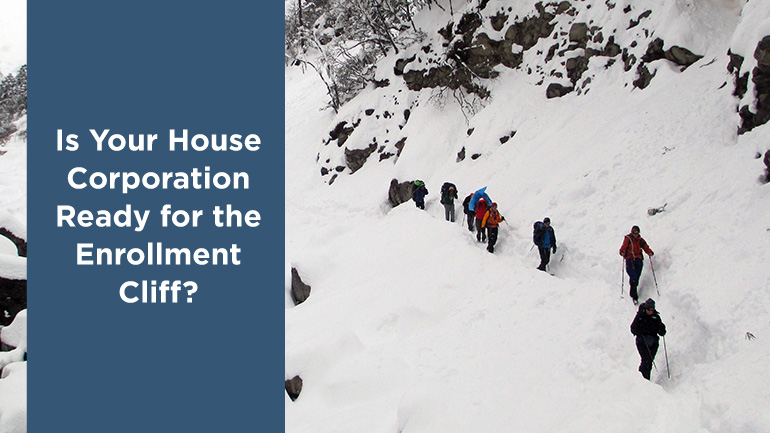 Shortly after our climbing team reached Everest base camp in 2015, a blizzard delivered three feet of snow. The conditions were treacherous and my friend, Amanda, actually fell off the mountain on our descent. I remember my fear as I heard her scream as she went down. Luckily, a tree broke her fall and she survived.
I am starting to hear a different scream today—just as alarming—and I wonder what will break our fall. College enrollment is predicted to drop by more than 15% after 2025.
This looming "enrollment cliff" is being talked about among higher education leaders. According to the data, when the Great Recession hit in 2008, the birthrate took a nosedive. While the economy has rebounded in the decade since, the birthrate has not.
This issue was accelerated significantly by COVID-19. During the past two years, fewer students graduated high school and went straight to college. According to the National Student Clearinghouse Research Center, total undergraduate enrollment declined 6.6% from fall 2019 to fall 2021, representing a loss of just more than 300,000 students from four-year universities — our recruitment pool.
What are fraternity and sorority house corporations doing to prepare for the possible cascading effects of fewer students? As a long-time chapter advisor, here are my three recommendations:
Update and Reassess Financial Pro Forma
Take a critical look at the historical housing occupancy rate and compare it to current and future enrollment trends. What would need to change in your pro forma if enrollment—and recruitment—dip? We need to, at a minimum, increase rental rates with the cost of inflation.
Charge a Fair Market Room and Board Rate
Fraternity and sorority homes have effectively become subsidized housing. We have been charging a substandard room and board rate compared to residence halls and apartment complexes to get our members to live in our facilities. Take note of your chapter house in comparison to the competition in your campus community and adjust rates accordingly.
Build Up Financial Reserves
COVID-19 has caused several house corporations to deplete or dip into reserves. Build up reserves to have a minimum six months—and ideally two years—of operating expenses. Whether it is another pandemic, natural disaster or risk management concern resulting in chapter suspension, we can never have enough money set aside if a crisis hits that impacts the facility or ability for students to live in. As you assess your financial condition, also assess your deferred maintenance projects, especially after the previous two years. More than 70% of our homes were built before 1974 and need maintenance.
---
Pennington & Company has raised more than $112 million for fraternities and sororities since 2020. If you have a need, you need to ask your alumni to support your chapter or its home. Seize this opportunity to make some hard decisions today so that you will have options in the future and stay on the right path.