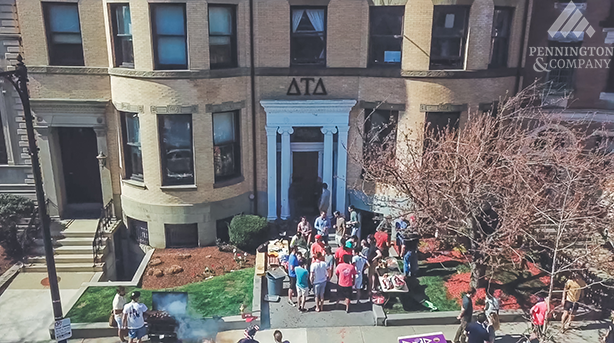 "There was this amazement from other organizations: 'You did what?! How much?!' And Pennington was absolutely the catalyst."

Alex Pina, House Corporation President
For Delta Tau Delta at MIT, this wasn't their first attempt at a capital campaign. "It was the early '90s. It was a C-minus effort, if I'm being honest," recalled campaign co-chair and former, long-term Chapter Advisor James Shields. "We never really engaged the alumni."
Fast forward to 2018 and an alumni vote to rebuild the house, and they were going to need an A+ effort to do it. While the chapter had used another partner for 50 years, they were open to Pennington's proposal. "The personnel were impressive, and they had a newer approach to the pre-work," said House Corporation President Alex Pina.
The Power of Pre-Work
The steering committee met first in 2018, and Pennington got to (pre)work right away, conducting the feasibility study and working with the chapter and the architect to understand how much needed to be raised and who those key initial donors might be. Once the numbers came back at $5-7 million, Delta Tau Delta had their target and the team went out to donors.
"The combo of Emily Gray and the alumni leadership going around the country to meet potential donors was dynamite," recalled Shields.
"She willed the momentum the campaign needed in those beginning months," added Pina.
With the groundwork laid in the quiet phase and nearly $4 million raised, the full launch began. Pennington created a campaign brochure to go out en masse to alumni, including initial floor plans and where the contributions
would go.
Participation Points
In Fall 2019, the campaign approached its high-end goal of $7 million, and the committee decided to reset its sights on
$8 million to keep up with rising construction costs and reduce the mortgage overall..
After reaching the new goal, Delta Tau Delta shifted its focus to participation, setting 40% of living alumni as the target. They ended up achieving 52% participation with members representing every class from 1951-2020 — for 70 years of alumni support to the tune of $9.3 million!
"We were not professional fundraisers. Having Pennington there got us to where we never would have dreamed of."
The ribbon cutting in fall 2021 welcomed nearly 200 alumni, but new member numbers would be the real measure of success. As some chapters' recruitment numbers trend down at MIT, Delta Tau Delta recruited 15 new members during their first recruitment since moving into the new house, roughly double the median new member class size at MIT.
Shields reflected, "Had we not been able to pursue this campaign and knock it out of the park, we'd be facing a lot of the same decisions houses around us are going to have to make."
Client Wins
Raised 130% of goal, over $9 million
52% total alumni participation, including representation from every class from 1951-2020
Nearly $500,000 in capital reserves for ongoing needs
Exceeded annual recruitment goal for new members