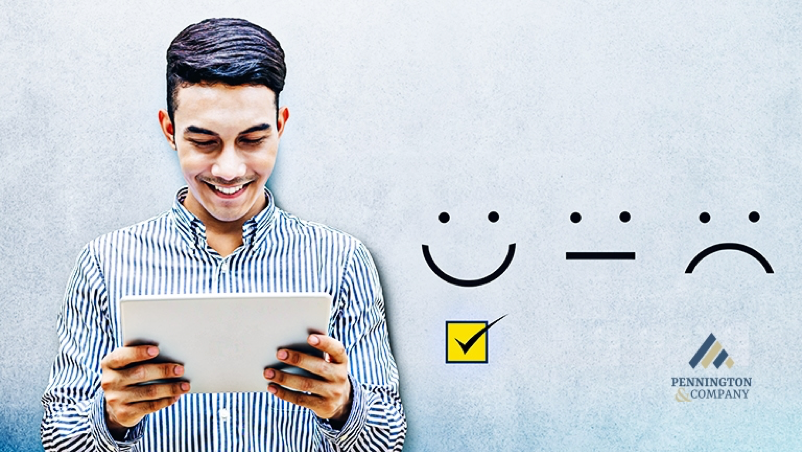 Alright...we already know what you're thinking…"What's the point of a survey, anyway?"
We get it.
Most people won't choose to fill out a survey unless it's requested—and even then, we need to be asked explicitly and politely. It'll come up at the end of a customer service call, the close of a plumbing job, or in an email from an Amazon seller after a purchase has arrived.
Completing a survey can, indeed, feel like an obligation to the person filling it out. But despite the imposition, it's worth "the ask" for the person sending it.
Why?
Because the value of the information is worth more than the potential inconvenience.
It's that simple, and your alumni network can be a goldmine of useful information that can dramatically improve your fundraising, engagement, and alumni communications.
Here's how to survey your alumni like a pro and get all the information you need.
1. Just pick up where you are.
One of the biggest differences between people who accomplish great things and those who don't is simply the choice to take action and start. Thankfully, when it comes to surveying your alumni association, the bar to getting started is lower than you think.
Let's start here: Did you know that 70% of people will fill out a review/survey when asked?
This means that one of the chief concerns when making a request of someone—that the response will be "no"—has a 70% chance of succeeding in your favor; and all you have to do is ask.
Asking for more information from your membership can be as simple as creating an email consisting of 10 questions, then sending it to your alumni email list. It can also be as detailed as a full-on assessment that's trackable down to the individual recipient.
There are levels to alumni surveying, of course (more on that later), but that doesn't mean you can't start where you are now and begin collecting information that can help positively shape your operations.
Just remember: It costs you nothing to ask a question, but the right answer can be very valuable.
2. There are tons of free tools.

In the age of the Internet, capitalism is king. This means a lot of tech companies are creating products and services to make your life easier—and some of these programs are free.
Here are three of the most popular for alumni surveys:
Google Forms
Google has a solid reputation for creating helpful—and free—alternatives to Microsoft's full suite of software offerings. However, one specific program that has no Microsoft equivalent is Google Forms. Google forms is a free survey tool in which you can create a questionnaire within the application, share the page link with users, then review the recorded data from their answers. It's simple, easy to decipher, as short or long as you want, and most importantly, free of charge.
Survey Monkey
Although Google's name is certainly trusted, Survey Monkey was one of the first of its kind. In the tool's free version, you can host 10 questions for 100 respondents. The application also allows you to customize and embed media images within your surveys as well. Whether you want to foot the bill for the tool's premium version will depend on the size of your alumni association.
Typeform
As a survey tool, Typeform is known for its aesthetics more than anything. With Typeform, you've got access to special typography, fonts, colors, and graphics, allowing you to create a fully customizable survey for your membership. The tool also gives you unlimited questions, answers, and the ability to export the data. The needs of your organization will determine which platform is best for you, but given that each of these tools is free, any of them is an excellent place to get started.
3. Be consistent.
When polling for information, it's important to realize that data changes over time. As a result, you'll need to conduct surveys frequently and consistently. Ideally, this means reaching out to your alumni association up to four times per year with an updated survey every time. Don't shoot a survey out once, then wait five years before asking again. Your information will be outdated, and you'll be starting from square one in acclimating your membership to routine feedback requests.
When surveying your alumni, make it a consistent aspect of your internal processes. Over time, your membership will relish the opportunity to provide feedback to leadership.
4. Ask questions you can measure.
"How do you feel about...?"
There's little point in asking a subjective question in mass, you'll only be left with answers that can vary wildly and do little to point to an overall consensus. They're also extremely difficult to measure. These are called qualitative questions and are typically unhelpful in the realm of objective data collection without hiring niche researchers and analysts.
Instead, you want to begin by asking questions that are quantitative in nature, meaning they can be accurately measured.
These kinds of questions look like this:
Have you donated to [campaign name] in the last 12 months (Y/N)?
How much did you donate to [campaign name]? (Ranges of money; A,B,C,D)
How likely are you to donate again in the future? (Not likely, likely, highly likely)
In the creation of your alumni surveys, think of your questions in terms of true or false, and multiple choice. These questions will be quantitative, while open-ended questions (think short-answer) are qualitative.
You also want to make sure you're collecting helpful aggregate information on your membership as a whole. This means asking for demographic information such as age, family, marital status, number of kids, income range, education level, occupation, gender, etc.
5. Make it short, but not too short.
When you're asking a survey recipient for their time, try to be respectful of it. This means limiting your questions to information that you need to know, not that you want to know.
It also means taking care to ensure the length of the survey doesn't feel like an exam. The equally problematic flip-side, of course, is making it too short and not getting the information you need.
In this area, best practices suggest keeping your survey at no more than 15 minutes long. Many of your alumni members will be reading/filling out your survey via their mobile phone, and if it takes too long to complete (longer than 15 minutes) they'll likely tell themselves they'll "finish it later," and never pick it back up.
A good test to see if your survey is too long is to complete it yourself. If you find yourself tiring towards the final stretch, consider making it shorter. Ultimately, you want the maximum amount of your membership to complete it, so focus on full conversions even if it means dropping some questions.
6. Share your results among your leadership and general body.

This is a simple one: Share the results of the survey with your organization.
Unless the information is sensitive and/or legally protected—which it shouldn't be–it's important to embrace transparency in this process. It will build trust among your general body, and your membership has the right to know the consensus of the group.
If there's a problem with campaign donation participation, whether it's the cause of the campaign itself or a lack of enthusiasm within your general body, addressing the elephant in the room is the quickest way to making the deep structural changes necessary to grow as an organization and ultimately succeed in your endeavors. Just always respect personal privacy.
7. Use your survey results to make better decisions.
Don't collect information without the ambition to use it. This may sound obvious, but you'd be surprised how many organizations take the time to collect data, but don't take the time to implement it into tangible change.
For example, did you know that 90 percent of nonprofits collect data, but only 40 percent use it? It's a serious problem, and it's a fast way to spoil alumni surveying for your organization for good. Think of it like this—why would your general membership fill out a survey if they know from experience that the information won't be used to affect general operations?
Answer: They won't.
To take advantage of the data you collect, you have to take both the process and data analysis seriously. This may entail hiring a professional to collect, sort, and provide actionable insights on your data to determine how to best achieve the results you want.
Regardless of how you choose to get started, the key is to start. With actionable data from your membership come more targeted segmentation of potential donors, the potential to raise more money, more time efficiency -- and, ultimately, better decisions.
For free resources, guidance, and other materials to help you with your alumni engagement
Call 1.785.843.1661 or contact us directly here.