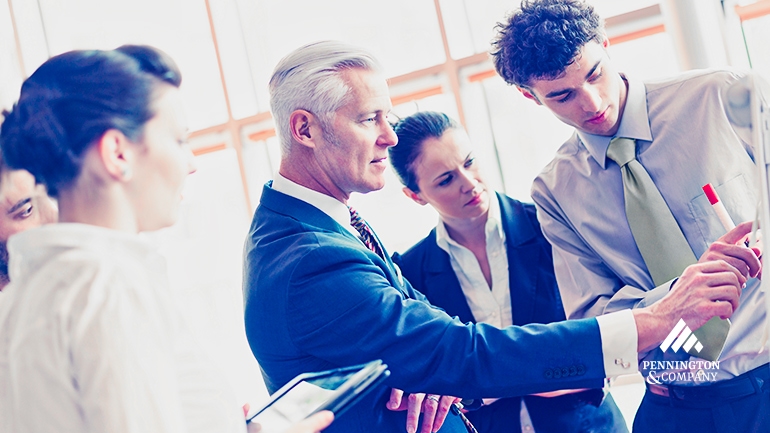 Every relationship with a donor matters.
Every one of them.
Whether your donor gave you one dollar or one million, your alumni association needs to treat both of them as if they gave you a billion.
Why?
Because an unappreciated donor is a one-time donor.
You worked hard to attract that donor, didn't you? You prospected to find them, you vetted them, reached out, inspired them to your cause, and convinced them to give what they could.
And yet, time and time again, once those dollars change hands, many alumni associations tend, metaphorically, to wipe their receiving hands of the transaction. The result is bad: The donor is left questioning the impact they've made, and without knowing it, the alumni association has just burned a bridge.
To remedy this problem and create long-term—and even lifelong—supporters, you need deliberate focus on your donor relationship management, and that involves everything from getting donors' initial attention, to recruiting them to your cause, to keeping the relationship strong after your goal has been reached.
Here are 5 tips for successfully managing your donor relationships to make them last.
1. If you want to capture your donors' attention, give them value up front.
This step always feels the hardest until it gets easy. When you're looking to grab the attention of donors—large or small—you have to be cognizant of the value you are offering them. From the get-go, they will find themselves asking why they should give you their precious time in the first place, much less their money in the end.
And while all potential donors must be nurtured, the sense of reciprocity they require will increase proportionally with the potential value of the donation.
Here's an example:
If you were running a fundraising event like a carnival or walkathon where the general audience can be expected to give up to twenty dollars, grabbing their attention might be as simple as marketing the event itself to the community you wish to target.
On the other hand, if you're looking to capture the attention of a million-dollar donor, a mass-market event won't cut it; you'll need something of higher value to attract them.
Don't feel helpless. There are options:
You can seek to leverage a relationship with someone close to your big donor and ask them to make an introduction to your association.


You can release a major report on the subject your fundraising initiative.


You might host an influential speaker, create a major campaign event in the area of your prospect, or simply invite the prospect to a premium event on your programming calendar.


You can hire a professional who knows the nuances of donor dynamics.
The first three strategic examples are great, but the fourth is often the most efficient and inherently encompasses the others. The possibilities are vast, but the goal is the same; you want to demonstrate value in your fundraising initiative. You want to show that a donation will be money well-given. 2. Take your time and form a real relationship.

It's counterproductive and inauthentic to gloss over the fact that you need money from prospective donors. However, that doesn't mean the relationship has to be purely transactional.
Whether your donor is big or small, give them opportunities to get to know your alumni association without the pressure of having to give. Don't overestimate the value of simply putting on an event, because relationships require far more than t-shirt opportunities. But events like banquets, golf tournaments, and volunteer functions can be starting points or gap-fillers to open up opportunities for your membership and potential donors to mingle, interact, and foster relationships based on shared values.
However, events can also become crutches if you don't keep a holistic mindset. We all know you can't just throw a party and expect big bucks to roll in as if it were the Metropolitan Museum of Art Gala. And while some prospective donors might appreciate the opportunity to attend an event, remember that others are looking for much more.
3. Be transparent and concise when explaining your campaign.
Even if this sounds trite, it's true: Common sense isn't always common. When it comes to money, decisions are often emotion-based. So, if you can make your prospect feel connected to the cause you're championing, they're more likely to help you.
However, don't think this emotional play will carry the day. Donors want to know how their dollars will be used. To determine the value of their contribution in their mind, prospective donors want to know exactly where their money will go, how it will affect the project, and what the return on their investment will be.
For example, if your alumni association wants to build a hospital in Senegal with a price tag of 10 million dollars, you need to be able to explain the role of every nail in its construction, and the impact it will have on the community for years to come.
Although we've written about this before it's important to remember that you need a definite why for the goals you're asking donors to support. Only then will you be able to explain it clearly enough to inspire.
The devil is in the details, so master them. Knowing your plan like the back of your hand will inspire confidence in even the most skeptical donors.
4. Tell a good story.

But when you are looking to push those "emotional buttons" to raise money, the value of storytelling can't be overstated.
As we've mentioned above, purchases and donations are emotion-based. The more a person can identify and connect with another person's story—one of the most powerful forms of communication—the more willing they are to offer support.
Here's an example of this concept at work. Compare one approach to the other:
A Rational Plea
Homelessness is a serious problem in the U.S. As of 2017, the U.S. Department of Urban Housing and Development determined there were more than 544,000 homeless people living on the street. The life of a homeless person is one of depression, addiction, poverty, mental instability, poor health, and violence. In fact, conditions for homeless people in the U.S. are so bad that on average, a homeless person will live 30 years less than the average person. These people are fathers, mothers, sisters, brothers, and ultimately fellow Americans—and they need your help. If you want to help combat homelessness in America, support Move for Hunger in its mission to feed homeless people across the country.
This plea is designed to be informative and persuasive. But it's also a bit emotionally muted.
Here's another approach.
The Story
There's a hungry man sleeping on the street right now. He's lying between two layers of cardboard and a pile of clothes he found next to a dumpster. He's a father. Or at least he used to be. It started with booze. His father was an alcoholic and gave him his first beer on his 6th birthday. When he was young the drinks gave him courage, made him charming. But over time, getting drunk was the only path to feeling "normal." He hit the bar every weekend. Then it was a few times a week. Then every day. It didn't take long for his wife to get tired of his failed promises and excuses. It took his job less time than that. Each loss made him feel worse, made him hate himself more, made him want to escape...and that's when he turned to heroin.
His name is John. He's 46. And he doesn't know or care whether he'll eat tomorrow.
Every person in John's life has given up on him. Will you give up on John and those like him, or will you try to help?
If you'd like to help, you can. And you can do it right now. To give John and those like him a fighting chance, give whatever amount you feel comfortable with to Move for Hunger.
See the difference?
Both can be effective, but one creates a deeper and more emotional image than the other. Use storytelling to humanize your cause, and you'll connect more easily with your potential donors.
5. Create and execute a follow-up schedule.
Again, when a prospect donates to your association's initiative, it's easy to believe the work is done, but it's actually just getting started.
You need to stay in touch.
A solid email campaign can help here.
Whether your donor gave the change they had in their pockets or had to wire money to you from an island in the Caribbean, collect all of your donor's email addresses.
With several email addresses in hand, you have a list. And that email list is the perfect qualified target list for future donations. Due to the fact that they've engaged with your association before, they've already been vetted, saving you time in finding new prospects and allowing you to build your master list over time—increasing your fundraising potential with each subsequent event.
However, as any professional in this space knows, you can't just email this list every time there's a new fundraising goal. This is actually counterproductive.
Instead, work on strategies that keep your previous donors engaged and informed about the status, achievements, and progress of your association. Include the status of any and all fundraising projects that were financed by donor support. Newsletters can be a great tool in the regard if they are approached with the proper strategic mindset.
And though this should be a given, sadly it's not:
Email every donor on your list a message of appreciation.
Your donors need to feel special, so keep these messages personal. Let them know where their dollars have gone, show them the current stage of development for your fundraising project, provide pictures, etc.
Remember, people often give simply because it feels good to help. If you remind them of the impact they've had through their donation, it'll encourage them to donate again—and in larger amounts—in the future.
For free resources, guidance, and other materials to help you with your alumni communication
Call 1.785.843.1661 or contact us directly here.