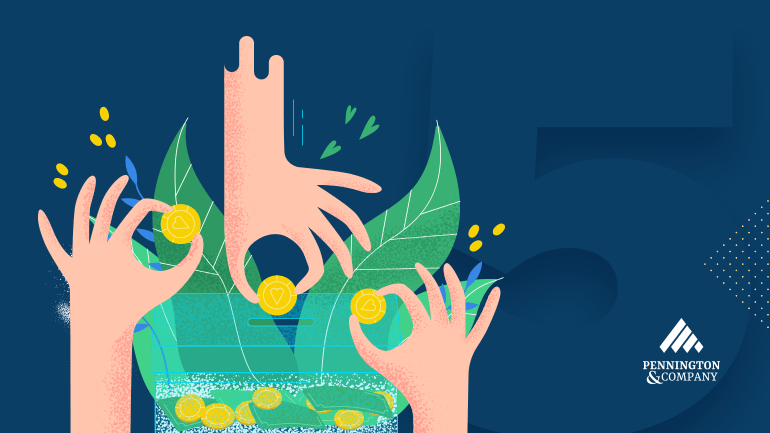 Greek fundraising requires intuition. But you've also got to understand how to consistently engage donors' interest in your alumni association's project aspirations on a professional level.
It's also an extremely important endeavor.
Building or renovating a chapter house may seem to some like a needless luxury to some. Yet creating a space for college Greeks to succeed can have a major impact.
According to a Gallup study, those who are successful college graduates who felt "emotionally supported" and had "experiential and deep learning" were more likely to succeed professionally and be more mentally and physically healthy later in life.

In a large way, contributing to the undergraduate members with a chapter house project, a scholarship or endowment fund, or both, helps facilitate this outcome.
So, how do you plan and execute your capital campaign goals? How do you engage your peers and get them excited about giving back to the chapter that gave you so much?
It may feel daunting at first—a project of this magnitude will very likely take years of concerted effort to complete. But there are steps you can take to keep success in your cross hairs.
Let's dive into Pennington & Company's 5 Best Practices for Greek Fundraising Every Alumni Association Should Know.
It Starts with Keeping Good Records

It seems simple enough, but you really can't communicate with your potential donors—and communicate in the right way—if you don't keep good records.
You need up-to-date contact information on all potential donors, including email, mobile and landline phone numbers, mailing address, year graduated, and career and business information.
You can update your database by asking your national headquarters for this information, using services like White Pages or a paid service like Alumnifinder, or by asking other alumni for information from their own personal Rolodexes.
With this information, you can determine:
Who are my top 100 donors?

Who are my potential volunteers?

Could a CFO be our campaign treasurer? Could a CEO act as campaign chairman?




Email is the most successful way of reaching, followed by phone (text)
Communicate, Communicate, Communicate
Did we mention to communicate?
Good.
Because one of the biggest complaints alumni or alumnae give is that they don't get any communication or interest from their peers until a capital campaign comes up. It seems all that's wanted of them is money.
Put yourself in that potential donor's place. You can quickly understand why you might not want to place your interest in an organization that doesn't seem interested in you.
On the other hand, if you're already engaged and sold on the organization's narrative, you're much more likely to feel excited about contributing.

Use your updated donor info to communicate in the following ways:
Email and phone. Sending emails at least monthly can keep alumni more engaged. Phone calls can make a difference as well.
Print. Newsletters, postcards, and other physical correspondence are likely to make a huge impact on your donors. Why? A person may receive up to 87 emails per day, but on average will only get 2 letters in the mail.
Sending a physical newsletter several times a year can make a huge difference.
It's easy to delete that pile of emails, or lose some of them in the spam folder. Sending a physical letter shows you made an effort—and that effort will be noticed.
A website. This is a great secondary landing spot for donors to get answers to their questions, view the most recent newsletter, or give a recruitment recommendation.
Social media. Facebook, Instagram, and Twitter are a good backup for promoting chapter accomplishments and event reminders.
Make sure your content is alumni-specific, focusing on peer accomplishments, with only 10-20 percent focusing on undergraduate affairs.
Give Thanks—and Cash Their Checks Quickly
Your donors want to feel appreciated. They've contributed to the chapter, and they want you to recognize that fact.
One way to do that is to give thanks immediately after receiving a gift. You can of course thank them in person or on the phone, but also recognize them in a public donor list, newsletter, or social media, among other mediums.
You should also have a robust and efficient gift management system. Donor checks need to clear the bank as quickly as possible, so there aren't any questions confidence issues about your handling of funds.
Set the Ideal Goal, but Be Prepared for Anything

First, you set a capital campaign goal. This goal is the culmination of research and planning.
You've usually done the following at this point:
had an engineering firm investigate your project and itemized potential costs

hired a local architect with Greek housing experience

gone over floor plans, a project narrative, and established a rough cost

considered all cost angles, such as engineering, project management, architectural, fundraising, construction, and interior design/furniture

established other fundraising needs such as endowment or scholarship funds
You should also consider how your project plans match your organization's identity. Are there certain spaces in the chapter house that speak to your chapter's core beliefs, such as a shared space to eat together, or an emphasis on libraries or study areas?
Then You Set Your Fundraising Goal(s)
You first set your ideal goal—if funding were not an issue, what would this project look like?
Then you set your "walk away" goal. If you can't raise your top goal, what is the minimum project you're willing to invest in?
There are usually 40 to 50 alumni or alumnae who will give 80%-90% of the project; these are the donors you must focus on when testing your ideal goal's potential success.
Tell Your Fundraising Story

When you want to really reach donors, you must not only tell your fundraising story—you must also make them a part of it.
Good fundraising isn't about hammering the dollar amount you need in people's faces. Here are a few central questions you can ask yourself when formulating your fundraising story.
How does this project benefit the undergrads, the university, the community, and donors?

What does and has alumni support meant to your organization?

What are the challenges you face that fundraising gifts can help alleviate?

How, specifically, will the money be spent?

Beyond this project, where do your donors fit into the future of your organization?
Tell a good story and the funds will come.
Pennington offers professional solutions for Greek letter chapters for capital campaign fundraising. Learn more about our services or call direct at 785-843-1661.
Leave your questions or comments about Greek fundraising in the comments below!