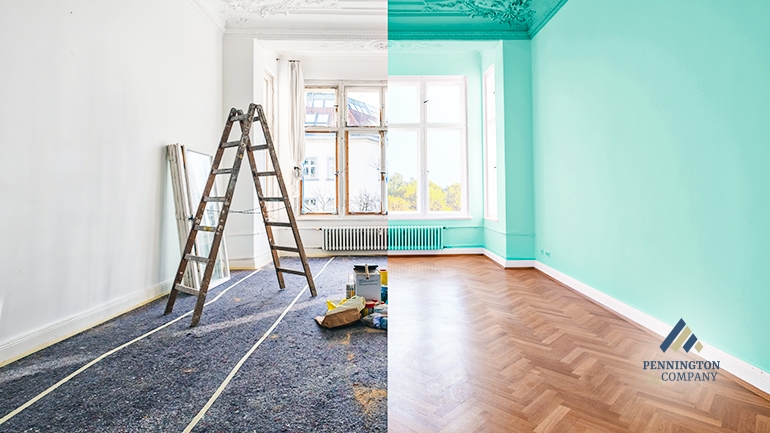 Maintaining a fraternity house isn't cheap.
In fact, some repairs can reach as high as $75,000.
In a house full of young men—particularly ones that have recently been freed from direct supervision—there will be accidents, damages, and destruction; this is inevitable.
As a result, your alumni association must be prepared to foot the bill, which will ultimately come in the form of new—and consistent—renovations.
However, simply replacing what's broken or aging with what was there before isn't always the best solution. Broken things need to be fixed, sure, but what if there were a way to repair damaged or outdated sections of your house while getting a bit more bang for your buck?
What if the new renovations to your fraternity house could also raise your property value?
Well…
Here are 5 Fraternity House Renovation Ideas to Increase Your Property Value.
5. Remodeling Your Kitchen

Kitchens are perhaps one of the areas most prone to damage in a fraternity house, aside from the lawn and the bedrooms. The reason being is because they're one of the most heavily trafficked. Whether it's eating, drinking, or throwing social events, this vital area of your fraternity house will be the first to break down over time.
So, when looking to renovate your fraternity house, start with the kitchen. Kitchen renovations are known to recoup 60%-120% of their initial investment in increased property value, as long as you don't go crazy.
What is going crazy?
Crazy is making the kitchen the fanciest part of the house. Crazy is making the kitchen nicer than a 5-star restaurant. And crazy is dropping the price of a Mercedes S550 into a kitchen just to make it big and pretty.
Don't do that. Instead, put your renovation investment into the little things by painting the house, swapping out old appliances with energy-efficient ones, and avoiding marble countertops and opting for granite.
4. Adding Another Bathroom...Or Two
If there was a suggestion box for fraternity members asking them what changes they'd like to see in their fraternity house, the box would be stuffed with one response: more bathrooms.
In a house full of guys and limited access to an open bathroom, tempers can flare up pretty quickly, causing preventable drama within the house. Aside from growing turmoil within your ranks, limited bathroom space and an abundance of stressed-out and testosterone-fueled young men can also lead to—you guessed it—unkempt bathrooms.
Fraternity house bathrooms can become the source of nightmares for alumni brothers looking back to their fraternal living days. So, next up on your list of renovations should always include bathrooms. More bathrooms, at that. Building additional bathrooms will not only increase the property value of the house itself by offering additional amenities, but it will also improve the quality of living for the undergraduate members living inside the house.
With more bathrooms, there's less time spent waiting on them. This means fewer brothers late to their classes, ideally better grades for the chapter, and happier members overall.
And bonus, they also provide an 80-130% return on your initial investment.
3. Building a New Deck
It'd be a challenge to find someone who didn't like a well-built deck on their back patio. Decks can be a perfect addition to a house. They add depth to a backyard, give property owners the opportunity to personalize it, and are a perfect complement for entertaining guests.
And bonus, they're not expensive to build either, with estimates running generally under ten thousand dollars.
So, give your undergraduate brothers the chance to bring in Labor Day, Independence Day, or really any weekend with a nice BBQ. A deck is a great investment for any fraternity house and requires little maintenance, produces almost no liability risk, and can be constructed quickly compared to other backyard additions like in-ground pools. By building a deck, you can expect to recoup 65-90% of your investment.
2. Bring In Energy-Efficient Windows

Aside from more aesthetic additions to your fraternity house, the next big renovations you can make to create a greater return on your property value are the internal bits: your windows.
By removing outdated windows and replacing them with more energy-efficient alternatives, you'll be able to satisfy a market desiring more environmentally-friendly homes, make your home less taxing on the planet, and reduce your energy expenditure to get your costs down.
To begin renovating your windows all you need to do is replace your old windows with Energy Star-rated substitutes. Do this and you can expect to recoup 60%-90% of your initial investment.
Note: This upgrade can also score you a 10% Green Tax Credit.
1. Make Small but Meaningful Improvements
In life, the little things are the ones that really count, and as you can imagine, home renovations are no different. Putting in a little maintenance and final touches on a house can help a property withhold its value over time, and even increase it in some cases.
To properly maintain your fraternity house in a manner that retains—or improves—its value, stick to the basics:
These small but consistent actions will help you retain the property value of your fraternity house, and will save you from paying an arm and a leg when things inevitably need to be repaired.
The Final Takeaway
It doesn't take much to damage a house, but it doesn't take much to protect it either. Make the small investments now and you'll not only retain the property value of your house for years to come but add value to it while it naturally appreciates over time.
If you want to learn how to raise more money to make these kinds of renovations, we can help.
Call 1.785.843.1661 or contact us directly here.