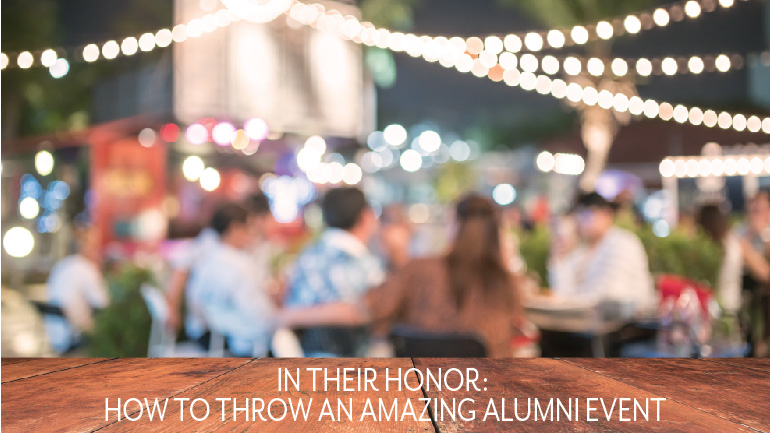 Alumni work hard to help their chapter stand above the rest. They contribute countless volunteer hours, blood, sweat, tears and a lot of money.
To show your thanks as fraternity brothers, you've already cobbled together a robust alumni-chapter engagement program. You're communicating well with a strong fraternity alumni newsletter and spending quality time with local alumni.
On top of that, your annual fundraising has garnered plenty of alumni involvement. You're reaching your goals faster and more frequently than ever before.
After a successful capital campaign for a fraternity house renovation, you're living in luxury and attracting tons of potential new members during rush.
You have alumni to thank for it all.
Though you already know your alumni deserve your adoration. The question isn't if you should honor your alumni, but how?
You can publish their contributions in a tiered donor list. You might even etch top alumni donors' names into the chapter house's freshly-laid brickwork. But what about when you want to do more? How do you show alumni what they truly mean to you and your brothers?
Of course! You throw an alumni event.
The next question, naturally, is: What kind of event should you throw?
While some alumni may be eternal undergrads at heart, many have left their golden days behind. They've grown up a bit since college and won't want to just sit around and party.
Even if they did, they probably get enough of that kind of thing with peers and coworkers, and it's not easy booking a last-minute babysitter.
The good news is you don't have to host just one event, but if you're going for "the big one," i.e. inviting alumni from out of town, you better pull all the stops.
This event should truly be In Their Honor. That's why Pennington & Company wants to help you Throw an Amazing Alumni Event.
Keep Your Event Alumni-Focused

This may sound obvious, but it's easy to plan an event that alumni attend but don't necessarily get any of the spotlight. And those more casual events can be fun once in a while, too.
Tailgating for a homecoming football game, hitting the park for a round of Frisbee golf, and a raucous dinner at a sports bar are all ways to bring alumni into the chapter fold.
However, while those are technically events for alumni, they aren't alumni events.
Still confused? Let's put it another way. Alumni are the belles of the ball. They should be stage center.
Keep in mind that if you've planned this event well, alumni have moved a lot of pieces around to be able to attend. You advertised your event in the fraternity alumni newsletter, hounded alumni for months, and even got them to recruit other alumni to attend. Finally, after all that work you built a guest list to be proud of.
One way to show your appreciation for alumni is to hold an awards banquet dinner. The national fraternity may have its own awards events for outstanding alumni, chapter advisors and others, so your event should focus more on outstanding alumni donors and volunteers on the chapter-level.
Speaking of fancy dinners . . .
Stay Classy, Fraternity Alumni Events

If Anchorman's blustery Ron Burgundy were to host your alumni event, he'd remind you that a little class can go a long way.
He might also tell you that your mustache game's a little on the weak side, but that's a whole other story.
What's important is that your suits are freshly pressed, your ties are Windsored, and your hair shines like the morning sun.
If you're going the direction of an alumni awards event, don't cheap on the venue. While it's good to shop around, you're going to want to rent a big enough ballroom. Provide a nice meal and music for dancing. Most importantly, spring for some quality awards. That means no "#1 Alumni" trophies made of chocolate.
Ask a few select alumni ahead of time to give speeches about their contributions and the importance of chapter fundraising. This has a dual purpose. It highlights the generosity of the speakers, but it also promotes future fundraising by engaging fellow alumni.
There are hundreds of other ideas you can bring in to keep the event classy and engaging at the same time. Project a slideshow of last year's Founders Day barbeque with alumni and brothers. Have a whacky tie contest.
The possibilities are endless--as long as your event doesn't feel endless to your guests of honor.
Hey, There Are Kids Here! Keep Events Family Friendly

Whether you go for a more formal gala event or an outdoor picnic, keep in mind that alumni may have spouses and young children.
Tell alumni to bring the kids along. It's a little more work to pull it all together, but family-oriented alumni will be much more likely to attend your event.
If you're really looking to bring the family fun, a picnic in the park could be a great idea. You can have horseshoes and three-legged races, water gun fights, canoeing on the river, and barbeques a-blazing.
Don't worry, though. You don't have to lose the awards portion of the event. Simply rent a PA system and a picnic pavilion.
Please represent the values of your fraternity letters to a T. Alumni won't take kindly to unbecoming behavior in front of their youngsters. In fact, you should always try to act like the best fraternity men you can be in front of your esteemed predecessors.
Building relationships between your chapter and your alumni means earning trust. So use your events to celebrate alumni, show them a good time, and garner their good will.
What types of alumni events has your fraternity chapter thrown in the past? What are your plans for future events? Are there any ideas you would add to our list to make that next event a smash hit? Give us the skinny on your amazing alumni events tips in the comments below!