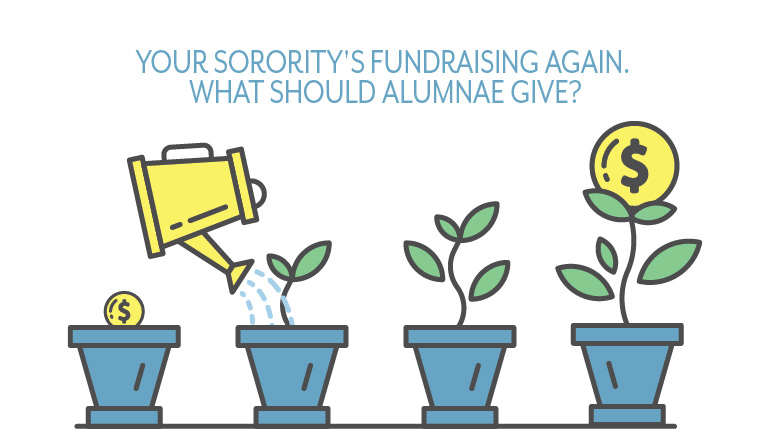 Let's be honest. When is your sorority chapter not fundraising?
It's a good thing, of course. No sorority can thrive for long without healthy fundraising.
The problem arises when alumnae and their undergrad sisters can't get on the same page. Some chapters fundraise infrequently, engage alumnae poorly, and somehow expect to rake in a pile of fat checks.
By the same token, alumnae face the danger of poorly engaging their chapter. Alumnae must help guide the undergrads in managing a more consistent annual fundraising effort.
Major capital campaigns can have major implications for sisters, alumnae and their national sororities.
Consider a campaign focused around a sorority house renovation. If the campaign succeeds, you've met the chapter's housing needs. That means better recruitment numbers, more room for an expanding chapter, as well as better amenities and spaces for sisters to grow and learn. This helps your sorority keep pace and compete with other sororities' housing as well.
It's not just sisters that benefit, though. Alumnae housing corporations share in their success, as well as all alumnae who gave or volunteered during the campaign and beyond.
You're building a better chapter that contributes to the sorority's goals on the national level, and as alumnae you're uniquely qualified to assess and manage those bigger picture gains.
However, for every fundraiser you have that lingering worry. Are you giving enough, or too much? Are there times it doesn't make sense to give? Does not giving mean you've disappointed your sorority?
Your Sorority's Fundraising Again, and Pennington & Company wants to help. Let's crunch the numbers. What Should Alumnae Give?
What Should Alumnae Give?

When calculating how much to give to a chapter fundraiser, weigh the factors that are unique to the campaign goal. Consider the overall goal and how much you're comfortable contributing in total toward that goal.
How much does the chapter and national sorority benefit from this initiative or project? Are you expected or able to be one of the primary donors?
Consider how much you give each year to chapter campaigns, as well as how much you've given to major campaigns in the past.
Ideally, you're not weighing the pros and cons of cutting a check in the context of a single campaign. If alumnae and sisters maintain a healthy fundraising engagement effort, you're already involved in annual campaigns and familiar with how your particular chapter manages alumnae gifts.
How much you give depends on your personal preferences. Many alumnae won't give to a particular campaign, and that's okay.
Maybe the project doesn't seem to have a strong enough impact on the chapter and national sorority when you examine the cost versus benefits. Or maybe it's just not right for you to give right now. That doesn't mean you've let down your chapter.
However, if you do want to give, there are ways to make it easier on you. Sure, you can show off by dropping a satchel of gold coins at sisters' front door like the Monopoly guy. But is that really the best way?
When Should Alumnae Give?

Successful chapter fundraising is rarely a one-and-done transaction.
In reality, capital campaign goals will garner much less in alumnae donations if they don't consistently engage donors. That means alumnae should give more often and probably in smaller individual amounts. These smaller, periodic gifts add up to more than if you give all at once.
Why?
Feeling engaged with giving, and seeing incremental progress with each gift, motivates donors to give more in total. Recurring alumnae gifts of lesser increments are also, obviously, easier on the pocketbook.
Often, alumnae end up giving more per gift after their first year of consistent giving, and more the year after that. Seeing real progress and knowing where your money's going, rather than just cutting a big check that you won't see pay off for months or years, helps show you that you're actually helping.
Recurring donations can be their own hassle when you have to remember to give an amount you've committed to every month, but chapters can also offer automated donation options that you can set up and adjust as necessary.
If the chapter doesn't already offer these donation options, consider how the alumnae association can integrate them into capital campaign giving.
If alumnae are able to give what they want, when they want, your sorority fundraising is sure to succeed.
How Should Alumnae Give?

Obviously, you should send a suitcase of unmarked bills to an undisclosed location, for "fundraising."
PSA: We're kidding. Don't become a super villain, even to reach fundraising goals.
Actually, there are many ways alumnae can contribute to a capital campaign other than becoming a top donor.
Volunteering is one of the most direct ways. You can work with your chapter in a number of roles, such as managing alumnae-chapter engagement, volunteering with the housing committee to guide research and planning into a house project, or by helping sisters identify and motivate alumnae donors through campaign management.
If you don't have time to volunteer, talk to your fellow alumnae about consulting sorority capital campaign experts. Fundraising specialists can guide you with campaign planning and feasibility, project management and alumnae-chapter engagement.
Sometimes the housing committee can handle these tasks, but you're also splitting your resources between campaigns and other chapter and alumnae initiatives, as well as your personal lives and careers.
Good fundraising consultants dedicate their resources entirely to your chapter's campaign success, leaving you free to tackle other needs and goals.
As an alumna, bad fundraising will leave you confused about how much to give and when to give it. You'll feel unmotivated and disconnected from chapter goals. Good fundraising keeps you motivated year long, and makes giving easy and worthwhile.
What do you like about your chapter's strategy for alumnae giving, and what could use some improvement? What questions do you have about participating in or managing capital campaigns? Let us know in the comments below!