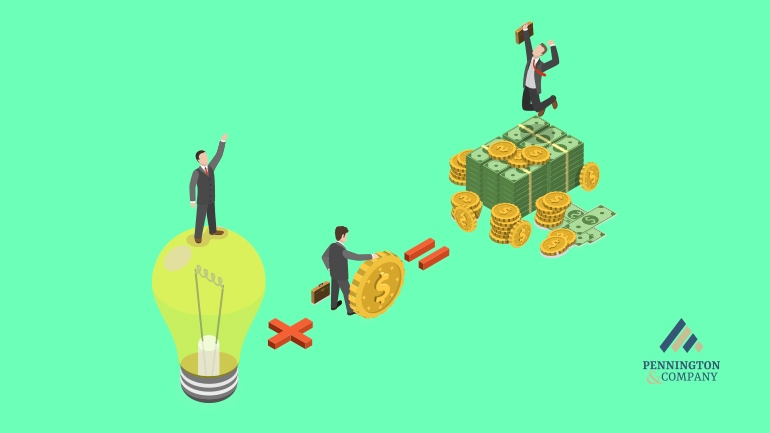 When it comes to fraternity fundraising, large initiatives require significant resources.
Here are a few examples:
You want to fund academic scholarships for your undergraduate members.
Your organization wants to make a sizable donation to a worthy philanthropy.
You're looking to renovate an existing building, construct a new one, or purchase land.
In essence, the fundraising goal you have is large—so large that throwing a car wash, bake sale, or a banquet just isn't going to cut it.
You're thinking at a higher level.
You're thinking BIG.
So, how does your alumni association raise large sums of money—we're talking hundreds of thousands to millions—to achieve your fundraising goal?
You create a fraternity capital campaign—and we'll show you how.
But first, let's get the most pressing question out of the way...
What is a capital campaign?

A capital (money) campaign is a large-scale fundraising drive. The important thing to note is that capital campaigns are singularly focused—one goal, not multiple.
For example, a fraternity capital campaign would never involve raising money for the construction of a new fraternity house and a philanthropic donation to the Feed the Children®.
Due to the size of the fundraising goals associated with fraternity capital campaigns, these initiatives require a significant amount of planning and execution to be effective.
Hence, why these initiatives are called capital campaigns and not fundraising events; they're a lot of work and aren't for the weak-hearted.
But, if you've made it this far, you've already got a goal in mind—you just want to know how to reach it.
So, now that you know what a capital campaign is, let's explore how to make one...
How to create a fraternity capital campaign
Start with why, pick a goal, and set a timeline
Start with Why is the title of an excellent business book by Simon Sinek, and it's also the first step in determining your fundraising initiative.
The question "why" speaks to purpose, and without it, it'll be difficult to summon the passion and energy necessary to accomplish your fraternity's fundraising initiative.
Do you want to expand your operations by building a new fraternity house?
Why?
Identify what absolutely requires this initiative.
Would you like to fund an annual scholarship for your undergraduate members?
Again, why?
What's the purpose? What are you trying to accomplish?
Once you've determined what your association's fundraising initiative, you need to settle on a fundraising goal (i.e. how much you want to raise).
After you've decided on a fundraising initiative and picked your goal, set a timeline.
To accomplish a goal, you need to have an end date, otherwise, you'll have no sense of urgency. An end date will also help you establish a framework of accountability, allowing you to set miniature mile-markers to measure your progress over time.
After you've completed the preliminary ideation, it's time to begin the real planning...
The three phases of fraternity capital campaigns
In the planning and execution of fraternity capital campaigns, there are three primary phases that encompass the entire fundraising process.
They are...
The Planning Phase
As the name suggests, this is the time when you'll do the bulk of your planning.
With your initial ideation done, the first step of the planning phase will be to consult with experts to estimate project expenses. Although this will largely be relevant to associations with goals to construct/renovate physical assets (a new fraternity house, an expansion, etc.) for large philanthropic goals (e.g. creating a school) it's important to determine your costs going in.
Because you'll be raising significant amounts of money, you'll also want to perform a good deal of prospect research during this time.
Prospect research
Prospect research is simply vetting potential high-value donors that would make the biggest impact on your fundraising efforts. For example, if your goal was to raise one million dollars, your prospect research might include donors who are capable of giving $50,000 or more.
Include as many qualified names on this list as you can find, and you'll also want to segment the names to correspond to each level for which you plan to approach them (i.e. you'll approach the $100,000 group first, then the $50,000, etc.).
The next part of this phase will be to conduct a feasibility study.
The feasibility study
A feasibility study involves polling your local community for interest in your capital campaign's initiative. During this phase, it's recommended to poll about 30-40 people.
So, if you're trying to raise funds to build a new home for the families of those affected by hurricanes in the Caribbean, you'll first want to ask around your local community and see if it's a cause they're interested in contributing toward.
Lastly, you need to put together a team.
Who's going to help you?
What are their roles and responsibilities?
Who's going to keep the finances in order?
Who's going to reach out to potential donors?
Who's going to facilitate your marketing and event efforts?
These are just a few roles involved within the scope of a fraternity capital campaign, but each facet is vitally important to your ultimate success.
With the planning completed, let's move on to next phase...
The Quiet Phase
In this phase your association has begun the process of fundraising, you just haven't made your efforts public yet. During this stage, your aim is to raise 50-70% of your fundraising goal through major donor gifts.
As a result, this phase is often the most difficult.
The reason for this is that you're starting from scratch.
At this point, you're unlikely to have any significant marketing resources or social proof, so garnering large donations to kick-start your goal out of inertia will initially be difficult.
However, you can make this process much easier by following these tips:
Build a website
This may sound obvious but your donors need some kind of proof that your initiative is real and that your planning is sound and well-researched. Deliver a beautiful website that's clear and inspires action, and you'll make the decision to donate to your cause much easier.
Create a brochure and other marketing material
Again, your donors need to feel something in their hand before they give you something from theirs. Create as much marketing material as you can to help them visualize your concept. If your association wants to build a school in Africa, have a mock-up made of what the school will look like. Share video of the village or the area itself. Paint a picture as vividly as possible, then sell them on how their contribution will make an impact.
Offer donors special incentives
Give donors who contribute sizable gifts a sizable reward. For example, let's assume your association is building a children's hospital, for top tier donors you could offer that you'll name a hall or a wing after them. If you're building a residential development, offer to name a street after them. This may feel like quid pro quo, but in truth, rewards are strong motivators for behaviors. If you want your donors to give big, give them a big reason.
Host donor events
Banquets, galas, dinners, etc.—anything that you can make exclusive where you can address a large audience in a controlled environment. For events like these, a solid presentation and helpful videos will be your greatest asset so prepare accordingly to ensure success.
Build corporate partnerships
Corporations will typically have more funds than you, and larger businesses will typically have a budget for philanthropic efforts. As a result, they can be incredible resources for donations. When approaching corporations, offer the opportunity for them to be sponsors. In this arrangement, your organization will simply agree to advertise their business where applicable.
And finally, the last phase...taking your initiative public.
The Public Phase
With 70% of your projected funds raised, the public phase is the home stretch. With most of the work done, there's a lot of fun to be had encouraging the general public to donate to your cause through hosted events (walkathons, concerts, tournaments, and other community-based gatherings) which will all begin with a kick-off event (an event making your cause known to the public).
In this phase, much of the ease in raising donations will come from the impact of each donation, as it moves the needle closer to its end point.
During this phase it's important to keep the public aware of your progress, as the closer they feel you are to meeting your goal, the more they'll be to donate toward it.
Here are a few tools to promote public giving:
Facebook and Instagram Livestream
Use this to broadcast your events and remind followers to donate.
Phone apps (Spark Post, Spark Video, Canva)
Create eye catching content to attract those who'd like to give.
Social proof can be a powerful thing. By giving your prospective donors the ability to contribute directly to your donation page AND see others who've done the same, you'll be subtly encouraging more and larger donations without realizing it.
Final Thoughts
When your alumni association aims to raise large sums of money, you need a good plan. Thankfully, that's where a solid fraternity capital campaign comes in. By planning for every stage, from ideation to execution, you'll be setting your fraternity—and yourself—up for success.
If you want to learn how we can help make your fundraising process more efficient
Call 1.785.843.1661 or contact us directly here.